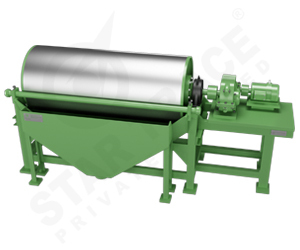 Wet Drum Magnetic Separator
Product Code : STWDMS 01
Product Description
As being India's one of the largest manufacturers, we are committed to offer our clients a foremost range of Wet Drum Magnetic Separator. These separators are made from the best quality materials at our modern machining facility. Our Wet Drum Magnetic Separator is used for the separation of ferrous contamination and ferrous metals during drilling, finishing, cobbing, roughing and cleaning applications. Our clients have the advantage to customize these separators as per their needs.
Features:
Effectively collect ferromagnetic minerals
Improved system performance and reliability
Corrosion resistance, compact design and less maintenance are some of its salient features
Further Details:

STL is one of the leading manufacturers of ore dressing equipment. The present range of STL process equipment enables us to provide complete packages. Wet Drum Magnetic separators constitute an important part of the product range and are known for advanced engineering design and excellent performance.
As a result of continuous development in separator technology STL can offer a complete line of Wet Drum Magnetic Separators to the mining and mineral industries.

Wet Drum Magnetic Separator Product Models and Sizes The STL Magnetic Set Separator Dia. 1200mm :
Wet Drum Magnetic Separators are offered in sizes of dia.1200 mm and 916mm in Lengths of up to 3000mm. Three basic separator designs are available for cobbing, roughing and finishing/cleaning applications. Each type can be supplied in single drum or multiple drum stages of taco nite or magnetite and also for recovery for magnetic medium in dense media plants. The stationary magnet yoke is an assembly of strontium-ferrite permanent ceramic magnets. The rotating drum is available with optional rubber or stainless steel covers. The magnetic flux pattern will match the tank configuration for optimum performance.

Wet Drum Magnetic Separator dia 916 x 300 mm is the smallest full scale separator in the 916 series and is primarily used for pilot plant tests. The separator can be delivered in concurrent, counter current and counter rotation versions.
STL's magnetic wet separator for laboratory use have drum dimensions dia. 600 x 285 mm and dia. 200 x 100 mm and are suitable for batch or continuous testing. The test results from the STL laboratory separators correspond closely to those obtained in full scale operation.

Wet Drum Magnetic Separator Adjustment Of Magnet Yoke and Drum :
The magnet yoke is mounted on the stationary drum shaft and its position can be adjusted (+/-35 °) by a lever at the end of the drum shaft to optimize running conditions in accordance with tank design and type of ore. The gap between tank and drum, which determines the pulp flow speed, can be adjusted vertically by shims inserted under the bearing housing and shaft support. Horizontal adjustment is by slotted holes.

Wet Drum Magnetic Separator Drive Unit :
The standard drive train consists of a shaft end mounted torque arm speed reducer outside the tank with V-belt pulley driven from a standard electric motor. This arrangement provides a smooth protected transmission and has several advantages compared to chain drives. Also other drive arrangements can be supplied.
The V-belt drive is protected by a steel guard. As an alternative the separator drive unit can be supplied with an easily removable fiberglass cover. These covers protect the entire drive unit and motor, with opening for lubrication maintenance and inspections.
The Steel V-belt guard is preferred for users in extreme climatic conditions, e.g. tropical and subtropical.

Wet Drum Magnetic Separator Feed and Discharge Box :
The feed box is designed for high capacities with a uniform distribution of pulp over the full length of the drum. Removable tramp screens can be provided as an option.
The discharge box is bolted to the heavy-duty frame and designed to give a smooth and easy discharge of the concentrate. Wear surfaces are typically rubber-lined.