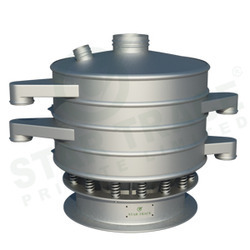 Vibratory Sieve
Product Code : STVS 01
Product Description
We are backed by a capacious and contemporary infrastructural base, helping us to manufacture and supply Vibratory Sieve. The sieve is used for screening powder and viscous liquid in food, ceramics, pharmaceutical and chemical industries. To manufacture the sieve, we use optimum quality materials at our production unit. Driven by vertical electric motor, our Vibratory Sieve has an enlarged top inlet port.
Features:
Capable for performing all types of screening operations efficiently

Requires less maintenance and consumes less power

Easy to change screen, to operate and to clean

Further Details

Vibrating sieve
is a basic equipment for verity of industrials, which is efficiently and capable of all types of screening operations for particles, powder, viscous liquid products. Our
Vibratory sieves
is definitely a good helper in different fields including chemical engineering, medicine, metal metallurgy, food processing, ceramics, coating material and pollutant treatments.
Working principle of Vibratory sieve :
This
Vibrating Sieves
machine is driven by vertical electric motor. An upper and lower adjustable eccentric weighted arm controls the motion of the unit. These weights can be adjusted to suit nearly every need required by the industrial screening market place. Moreover, vertical motion model is perfectly functioning in limited space, special model with adjustable gate devices aims to keep clean and accurate in separation by controlling outlet ports, special spout model has an enlarged top inlet port, which reaches high efficiency of screening operation.

Vibrating Sieve Specifications :
Sieving rate : more than 95%.
Low carbon, Energy-saving, performance.
Delivery time : 5-7 days.
ISO 9001:2008
25 years experience of it.

Application of
vibratory sieves
It applies to food, pharmacy, chemical, products, ceramic, powder, metallurgy, plastics. Rubber. Grinding and other industries.