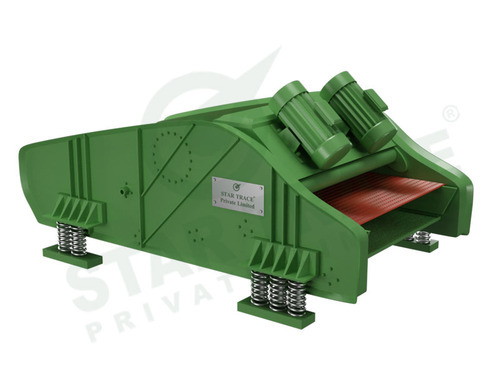 Vibratory Screens
Product Code : STVS 02
Product Description
We are a well acknowledged firm, engaged in meeting the growing needs of the market by offering quality assured range of Vibratory Screens. The screens are widely used in sieve different sizes of aggregate in coal, stone and various other mining industries. At our highly advanced processing unit, we use superior grade materials to manufacture the screens. The clients can obtain our Vibratory Screens in different powder specifications as per their requirements.
Features:
The amplitude of the vibrating screens can be adjusted

Robust construction, strong exciting force and high screening efficiency

The screens have large material handling capacity
Further Details
Vibratory Screens
We are a leading manufacturer and supplier of vibratory screens. our range includes horizontal vibrating screen, circular vibrating screen, linear vibrating screen, screen separator, gyratory screen, vibrating sieve.
Horizontal Vibratory Screen :
Horizontal vibrating screen adopts two motors. While they are running in opposite direction at the same time, born by theirs eccentric block, its vibrating forces in parallel to the axis of the motors will be cancelled by each other, the forces in perpendicular to the motor shaft will add together, therefore, the movement locus is a straight-line. There is a slope between two motor axis and the screen ,the raw materials will be up-threw with the vibrating forces and self-gravity and start a skipped movement straightly so as to achieve the purpose of the screening and grading. The largest meshes are 325 and can screen 7 different products.
Circular Motion Vibratory Screens :
The circular vibrating screen is a kind of sieving equipment of international advanced level, developed by our company on the basis of carrying on the advantages of traditional screens and absorbing the outstanding technology from abroad. It is widely used for grading and screening materials in the following field minerals, quarry, building materials, water conservancy and hydro power, transportation, chemical industry , smelting and so on.
Features and benefits it features long flowing line, many screening specifications, strong violent force, high screening efficiency, small vibrating noises, firm and durable construction, convenient maintenance and safe operation.
Operating principle: it adjusts the amplitude by tube-shaped violent vibration screen of eccentric shaft and eccentric blocks. the body moves like a circle, in order to make the materials screened.
Linear Motion Vibratory Screen :
Linear vibrating screen is a new type and efficient screening equipment. It is widely used in mining, coal, metallurgy, building, materials, refractory, light industry, chemical etc. linear vibrating screen has advantages of stability and reliability, low consumption, low noise, long life span, stable vibration and high screening. vibrating screen series work, the two-motor synchronous reverse placed so that generate reverse excitation force and force sieve body to drive sieve wet to make longitudinal movement, by this way led to materials on the shaker by the periodic exciting force to move out a range of screening materials, materials screening work is finished.

Gyratory Screens :
Gyratory Screens is a unique particle size gradable separator designed for greater capacity per meter square of screening area & over size material discharge with relatively much less percentage fines than other screening machines. Our company has been a leader in manufacturing and supplying a vast variety of screen separators to various industries across the country. We offer horizontal screen separator and circular screen separator which come with many special features. Our screen separators are known for their high performance, innovative designs, and affordable prices making them extremely popular among customers.