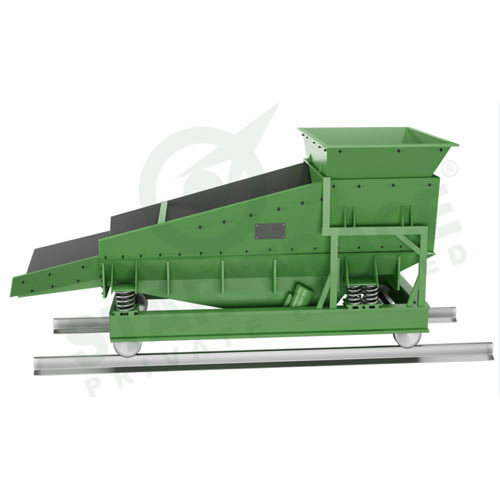 Vibratory Furnace Charger
Product Code : STVFC 01
Product Description
We have established ourselves as a quality focused organization, engaged in manufacturing and supplying Vibratory Furnace Charger. The charger is ideal to feed pig iron, scrap materials and foundry into the hopper. To manufacture the charger, we use high grade materials at our production unit. Our Vibratory Furnace Charger consists of a vibrating feeder, moving trolley and storage hopper mounted above the feeder.
Features:
Specially designed for extracting bulky and irregular scrap pieces without any problem

Effective solutions to problems such as high labor cost and hazards operators

Extremely controlled charging of material into the furnace
We are presenting
Vibratory Furnace Charger
from our large assortment of vibratory feeders that is exclusively designed for feeding large and irregular sized materials such as scrap, pig iron, bales and foundry retains and has a specially designed hopper for this purpose. It ensures safety as well as speed of charging by preventing damage to surface lining of the furnace. It allows adjustment in the speed of charge by changing amplitude of vibrations to match speed of the process and offers precise and automated batch control.
Vibratory Furnace Chargers Features :
Reduces labor costs
Efficient performance
Operator safety enhanced
Vibratory Furnace Chargers Specifications :
Tray length: 2500 mm
Tray width: 700 mm
Capacity: 2 Ton/hrs
Moc of trough: 6 mm Thk. - Ms
Material of liner: 6 mm Thk. sail ma
Discharge portion of the feeder tray: Ss 304 with sail ma liner
Drive K.W.: 2 X 1.5 Kw, 4 Pole, 1440 R.P.M, motors with class
Power Supply: 415 volts, 3 phase, 50 hz, Ac Supply System
Geared motor cable drag chain: 3 ph, Ac, 50 hz, 415 V, 1.5 Hp, 20 rpm
Type of chain: 125
Length of travel: 18000 mm
Length of chain: 17500 mm
Bending radius: 250 mm
Width of the chain: 150 mm
Link height: 92 Mm
Size of holes: 1 X 50 mm X 100 mm (Oblong)
Type of stay: Split hole type
Moc: Mild steel galvanized
Weight of the trolley: 1800 Kgs (Approx.)
Weight of the bulk material: 2500 Kgs (Approx.)
Total weight: 4300 Kgs (Approx.)
Insulation with temperature: Rise limited to class