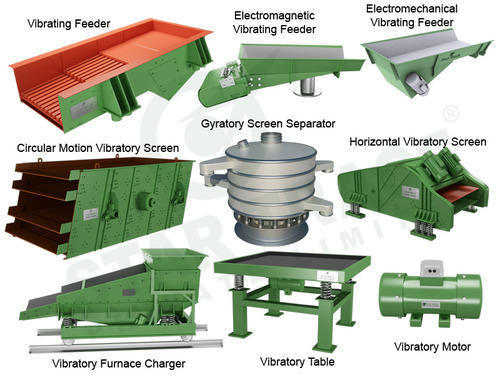 Vibrating Equipments
Product Code : STVE 01
Product Description
We are a fast-paced organization, committed to meet the rising needs of our valuable clients by manufacturing and supplying Vibrating Equipments. These equipments are applicable in in vibratory screens, feeders and conveyors of chemical, mining and food processing machines. To comply with the set industrial norms, we use premium grade materials to manufacture the equipments. Available in different sizes, models and specifications, our Vibrating Equipments are offered at the reasonable prices.
Features:
Require very less energy to operate

Optimum performance, less maintenance and noise free operation

Manufactured under the strict observation of veteran engineers
Horizontal Vibrating Screen(Vibrating Equipments):Horizontal vibrating screen
adopts two motors.while they are running in opposite direction at the same time, born by theirs eccentric block, its vibrating forces in parallel to the axis of the motors will be cancelled by each other, the forces in perpendicular to the motor shaft will add together, therefore, the movement locus is a straight-line. There is a slope between two motor axis's and the screen ,the raw materials will be up threw with the vibrating forces and self-gravity and start a skipped movement straightly so as to achieve the purpose of the screening and grading. The largest meshes are 325 and can screen 7 different products.

Vibratory Feeder (Vibrating Equipment):Vibrating feeder
can feed lump or granulated materials to the other devices evenly and continuously. In sand and gravel production line, the continuous feeding of the vibrating feeding machine helps avoid the blockage at receiving hopper. With easy flow adjustment, low noise and energy consumption, vibrating feeder is applied to crushing and screening production lines on crushing site, in mining, metallurgy, building material, chemistry, mineral processing, and coal industries. This vibrating feeder adopts an eccentric block to produce centrifugal force which makes the movable parts like screen box and vibrator move continuously in a circle or an approximate circle. The material then vibrates and jumps with the screen box on the tilted screen and is then continuously and equably discharged.
Circular Motion Vibrating Screen(Vibrating Equipment):
The
circular vibrating screen
is a kind of sieving equipment of international advanced level, developed by our company on the basis of carrying on the advantages of traditional screens and absorbing the outstanding technology from abroad. It is widely used for grading and screening materials in the following field: minerals, quarry, building materials, water conservancy and hydro power, transportation, chemical industry , smelting and so on.
Gyratory Screen (Vibrating Equipment) :Gyratory Screen Separator
is a unique particle size gradable separator designed for greater capacity per meter square of screening area & over size material discharge with relatively much less percentage fines than other screening machines.
Our company has been a leader in manufacturing and supplying a vast variety of screen separators to various industries across the country. We offer horizontal screen separator and circular screen separator which come with many special features. Our screen separators are known for their high performance, innovative designs, and affordable prices making them extremely popular among customers.
Vibratory Motor (Vibrating Equipments) :Vibratory motors
are Robust, Reliable, High Loadable, Quiet Running and require no maintenance.
Vibratory motors
are totally enclosed 3Phase, Squirrel cage induction motors with adjustable, eccentric weights mounted at both ends of the shaft, to set up vibrations during rotation. The design of shaft and the selection of bearings has been carefully done to withstand heavy radial loads.