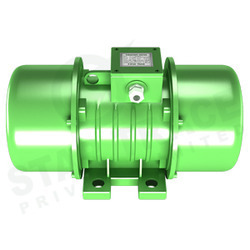 Unbalanced Motors
Product Code : STUBM 01
Product Description
In this field, we have got an international repute as one of the leading manufacturers and suppliers of Unbalanced Motors. We manufacture the motors in compliance with the latest technology using only finest quality materials and components. Our motors are highly applicable in feeders and conveyors of food, chemical & mining machines and equipments. We offer our Unbalanced Motors at the pocket friendly prices.
Features:
The surface of the motors are coated with epoxy powder

Our motors can withstand heavy radial loads

The motors have longer service life and consume less power
Unbalanced Motors
is a professional manufacture of Screening equipment, conveyor system, Unbalanced Motors, vibration table. We are focus on quality, pursue innovation and devote ourselves to technology development all the time. With the professional technical teams and richly manufacturing experience, we can supply excellence Unbalanced Motors for global customers.

Unbalanced Motors
is totally enclosed 3 Phase, Squirrel cage induction motors with adjustable, eccentric weights mounted at both the ends of the shaft, to set up vibrations during rotation. The design of shaft and the selection of bearings has been carefully done to withstand heavy radial loads.

Unbalanced Motors Application :Unbalanced Motors
are used in various material handling equipments such as vibrating screens, conveyors, and feeder. They are also used on hoppers, silos to prevent congestion of material flow. Foundry shake outs and compacting machines use these motors for fast and efficient operation.

Unbalanced Motors Features :
range: 0.25HP to 10HP. In 2,4,6,8, poles, 3 phase supply volts 415v, 50HZ
centrifugal force: 250 to 6500kg
mounting: foot in

Unbalanced Motors design :
Unbalanced Motors is a three-phase synchronous motor that has eccentric weights (unbalance weight) mounted at the ends of the rotor shaft. The rotating shft causes centrifugal forces, which can be adjusted by moving the weights it create a vibration.

Unbalanced Motors Winding :
Insulation class F enhances the safety under continuous operation conditions and at high ambient temperatures. Motor are tropicalized and designed for an extended voltage range.
Unbalanced Motors earing & Lubrication :
The right type of bearing for every application guarantees long service life even continuous operation. All vibratory motors are permanently lubricated for normal operation. Large capacity motor can be re-lubricated for average application.
Unbalanced Motors Protection Systems :
Motor are completely sealed and meet the requirements of safety class IP55 or IP65.
Centrifugal Force Setting :
The centrifugal forces can be regulated with the easily adjustable eccentric weights with graduations to suit practical applications.

Unbalanced Motors Applications :
Basically motor is designed for creating vibration. Motor use in Pharmaceuticals, construction, chemical industries, food equipment, Ceramic industries for different applications.