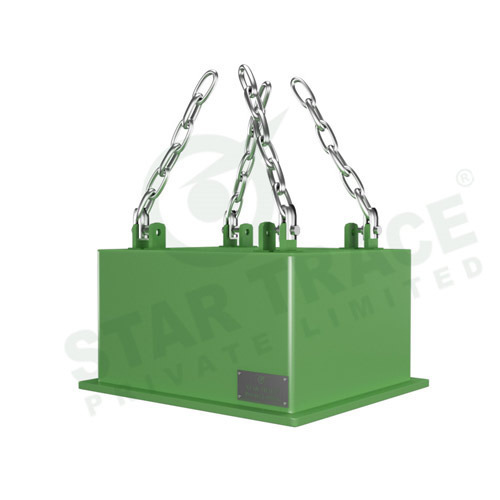 Suspension Permanent Magnet
Product Code : STSPM 01
Product Description
SUSPENSION PERMANENT MAGNET

Our company has managed to take a leading stand in the market by offering a huge assortment of Suspension Permanent Magnet. These magnets are placed over the conveyors, vibrating conveyors, vibrating feeders and chutes for the removal of ferrous metal. Made from top quality materials at our state of the art machining facility, our Suspension Permanent Magnet has high magnetic field intensity for extremely rugged environments.
Features:
Easy to install and convenient to use
High efficiency and stable performance
Sealed structure makes the separator resistance to water, dust and corrosion
Further Details:
suspension permanent magnet is suitable for continuous-duty occasions with small amount of ferrous metal objects to be removed. this equipment has a high magnetic field intensity, no energy consumption and a long service life. it is easy to install and use without maintenance.

Suspension Permanent Magnet Options :
Stainless steel plates
Turn buckles
Easy clean stripper pan
Suspension kit for fixed mounting to conveyor frame

Suspension Permanent Magnets Selection :

Selection this type magnetic separator depends on the
Feed material
Size
Feed depth
Depends on width and speed of your belt conveyor.

Suspension Permanent Magnet Applications :
It used in wide applications like

Cement industry
Power industry
Ore industry
Ceramic industry
Non-metallic ore industry
Metal industry
Chemical industry
Glass industry
Paper-making industry
Building industry
Sugar refining industry
Pharmaceutics industry
Food industry

Suspension Permanent Magnets Typical Applications :

Removal of ferrous materials in mining operations.
Separation of ferrous contamination in quarries.
Magnetic extraction of ferrous particles in wood processing.
Recover ferrous metal in waste management process.