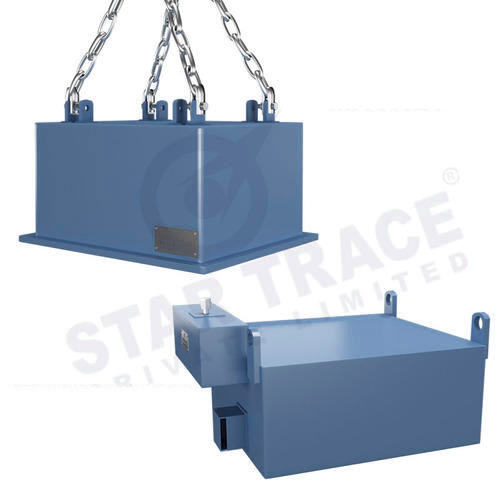 Suspension Magnet
Product Code : STSM 01
Product Description
SUSPENSION MAGNET

We are an almost 2 decade old conglomerate in the domain, renowned for offering an exclusive range of Suspension Magnet. These magnets are made by a team of skilled professionals, following the norms and guidelines laid down by the industry. Our Suspension Magnet is generally installed over vibratory bed or belt conveyor for removal of ferrous metals from granule or powdered materials. Our precious clients can avail these magnets from us in safe packaging within stipulated time frame.
Features:
Quick & easy assembling, without modifying existing lines
Prior to dispatch, checked on the parameters of performance and durability
It requires very less maintenance
Further Details:
Suspension Magnet are engineered for use in high volume and deep burden applications. Their primary advantages are their "deep reach" and the ability to be turned on and off. Mounted over a vibratory bed or belt conveyor, these magnets set the industry standard for strength.

Suspension Permanent Magnet :
Suspension Magnets consisting of aluminum or copper wound coils immersed in a transformer oil (for prevention of overheating or shorting) or air-cooled for extreme or dusty environments. All electro suspension magnet comes along with control panel. Operating heights up to 150 mm to 450 mm are available. Manually cleaned magnets can be supplied with a stripper mechanism. No power consumption, virtually maintenance free.

Suspension Electro Magnet :
Suspension Magnet is used for removing iron from powdery or lumpy non magnetic material. When the electric current pass through the iron core, the energy of magnetic force is produced, then a high intensity magnetic field will be produced if the insulated wire coil is wrapped around an iron core. So when the electric current pass through the insulated wire coil a stronger magnetic field is generated. We can use the magnetic field to work, producing qualified electromagnetic separator to meet customer requirement.

The shell of suspension electro magnet is welded by sealed steel plate and has gone through a strict test of air-proof. Meanwhile, a vacuum filling epoxy resin has been added between coil and shell to enable the equipment work well even in harsh working conditions.