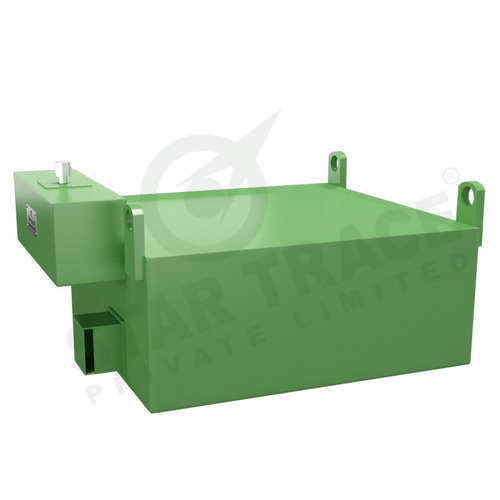 Suspension Electro Magnet
Product Code : STSEM 01
Product Description
Backed by the support of highly experienced and knowledgeable equipped personnel, we are engaged in offering the best range of Suspension Electro Magnet. These magnets are designed from best quality materials at our modern machining units. Our Suspension Electro Magnet is ideal for lifting heavy goods in engineering and construction sites. We offer these magnets to clients at a nominal price.
Features:
Rugged-all-welded construction can efficiently prevent the coil from erosion of moisture, dust and harmful gas
Magnetic circuit is designed in optimization with deeper permeability
Insulated copper & aluminum coils
Further Details:
Suspension Electro Magnet is used for removing iron from powdery or lumpy non magnetic material. When the electric current pass through the iron core,the energy of magnetic force is produced, then a high intensity magnetic field will be produced if the insulated wire coil is wrapped around an iron core. So when the electric current pass through the insulated wire coil a stronger magnetic field is generated. we can use the magnetic field to work, producing qualified electromagnetic separator to meet customer requirement.

Magnetic circuit adopts computer simulation design, so it has a deep penetration strong magnetic force and high field gradient and can provide max attracting force. The shell of suspension electro magnet is welded by sealed steel plate and has gone through a strict test of air-proof. meanwhile, a vacuum filling epoxy resin has been added between coil and shell to enable the equipment work well even in harsh working conditions. Natural cooling mode is adopted which causes a less risk of fault occur. The suspension electro magnet can remove 0.1~35 kg materials from non-magnetic materials and the removing rate can up to 95% or more.

Suspension Electro Magnets Features :
The following are the features of Vibratory Motor :

Non-combustible coolant.
Internal expansion tank.
Insulated copper/Aluminum coils.
Heavy duty impact plate.
Stainless steel angled cleats.
Steel dust enclosures for magnet installations in dusty locations.
Rugged-all-welded construction can efficiently prevent the coil from erosion of moisture, dust and harmful gas. Good environment and climate suitability, safe and reliable in operation and convenient maintenance.
The magnetic circuit is designed in optimization with deeper permeability,and its geometrical figure in the space magnetic field shaped semi-sphere so that will produce much stronger magnetic force compared with the other wares.
Field winding coil treated by vacuum desiccation and filled with special packing material to improve its mechanical and electrical performances and keep a long service life.
Easy to form a complete set with other equipments to meet the different requirements under all kinds of circumstances.The relevant commutating equipments have complete functions available.
Suspension Electro Magnets Applications :
Reliable Tramp Iron Removal from Fast-Moving Conveyors in Processing Industries for :
Purification of Product or Ingredient for Higher-Quality End Products (e.g., foundry sand, glass cullet, grain, food products and chemicals).
Protection of Processing Equipment (e.g., crushers, pulverizers, conveyor belts and screens).
Reclamation of Ferrous or Non-Ferrous Material (e.g., open hearth and blast furnace slag, incinerators and garbage plants).
Salvage of Valuable Items (e.g., tools, cutter bits and machinery parts).