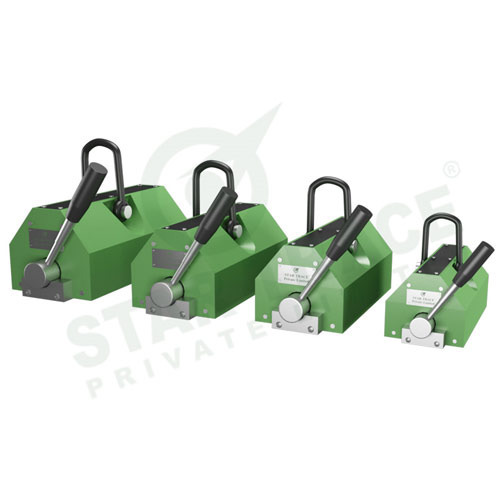 Permanent Magnetic Lifter
Product Code : STPML 01
Product Description
Established in the year 1991, we have grown onto become a well known manufacturer and supplier of Permanent Magnetic Lifter. These lifters can be used with mobile cranes for lifting steel plates, blocks, rounds, press moulds and loading & unloading heavy machines. Our Permanent Magnetic Lifter is made from the best quality materials and has built in neodymium magnetic powered system for hassle free loading and unloading application. We can also customize these lifters as per the needs of the clients.
Features:
Suitable for lifting flat and round material
Quick & easy operation with on & off system
Compact design and lightweight
Permanent Magnetic Lifter
Our sound reputation of manufacturing, supplying, and exporting a huge gamut of lifting material has encouraged us to present Permanent Magnetic Lifter to our patrons. These are equipped with two poles at the bottom and use high grade magnets to create strong magnetic flux to lift heavy mild steel material. Lifting and releasing of materials is achieved by turning the handle to on and off positions. These are used extensively for reliable lifting, loading, or unloading of MS blocks, rounds, or press molds. It uses cutting edge neodymium magnetic system for seamless performance.

Permanent Magnetic Lifter Features :

Compact and lightweight design
Versatile applications
Safe and reliable

Permanent Magnetic Lifters Benefits :

Very high lift to its weight ratio
Neodymium magnetic powered system
Improves plant safety No direct contact with men
Large and heavy work piece can be moved / handled safely easily by only one operator

Permanent Magnetic Lifters Applications :

For handling of steel plates, blocks, rounds, press moulds and loading/unloading on machines
Commonly used near flame cutting
Very handy during fabrication
Can handle finished components without leaving behind any scratch marks, unlike binding and slinging
Can be used with spreader beam hanging multiple magnets for long plates/pipes /bars
Can be used with mobile cranes