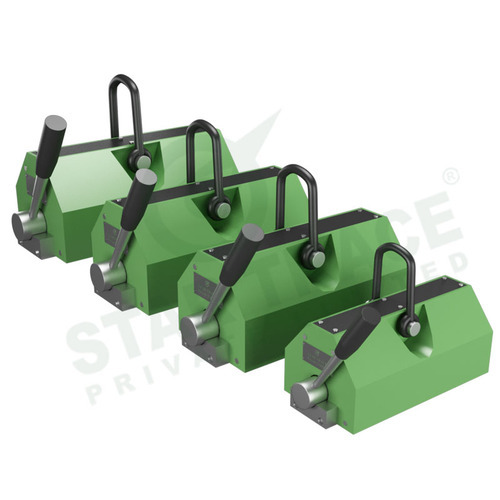 Permanent Lifting Magnet
Product Code : STPLM 01
Product Description
Permanent Lifting Magnet
Permanent Lifting Magnet is made up of two parts, such as permanent sucker and discharge device. The permanent sucker is made up of permanent magnet and magnet-conductive plate. the magnetic force wire generated by the permanent magnet will go through the magnet-conductive plate, attracted materials and form a closed circuit thus to achieve the purpose of lifting the steel materials. Tt is suitable for being used to lift and transport magnet-conductive billets, plates and rounds in industries of mechanical engineering, metallurgy, shipyard, car factory, dock and etc.
Tested more than 3 times the rated lifting capacity on grinded finish thick steel material lightweight and compact dimensions with low height made with high energy rare earth ndfeb magnets easily transportable actuating lever with positive spring lock inherently intuitive design to prevent actuating on non-steel or thin material handles flat and round loads.
Permanent Liftings Magnet Benefits :
The following are the benefits of permanent magnetic lifter :
Compact and lightweight.
Suitable for Flat and round material.
Very High Lift to its weight ratio.
Quick & Easy Operation with ON/OFF System.
Neodymium Magnetic Powered System.
Improves Plant Safety No direct contact with men.
Large and Heavy work piece can be moved/handled safely easily by only one operator.
Permanent Lifting Magnets Applications :
For handling of steel plates, blocks, rounds, press moulds and loading/unloading on machines
Commonly used near flame cutting.
Very handy during fabrication.
Can handle finished components without leaving behind any scratch marks, unlike binding and slinging.
Can be used with spreader beam hanging multiple magnets for long plates/pipes /bars.
Can be used with mobile cranes.