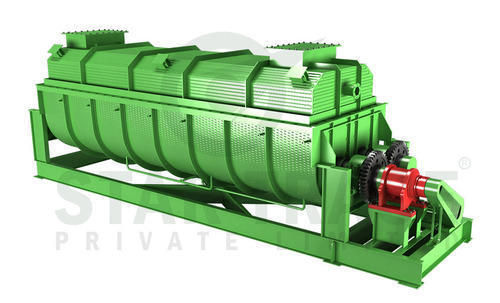 Paddle Dryer
Product Code : STPD 01
Product Description
Paddle Dryer
Since our inception in the year 1991, we have been recognized as a one of the prominent manufacturers, exporters and suppliers of a distinct range of Paddle dryer. Offered dryers have robust construction and are used for drying various types of sludge, by using heat or steam that originates from the conduction oil. These Paddle dryers are fabricated using premier grade metal and other high quality materials sourced from reputed vendors in the market.
Special Attractions:
Our dryers are designed using latest machines & tools at our production unit based in Tamil Nadu, India
Offered dryers are known for their high operational fluency and user-friendly design
These dryers are recognized for their longer operational life and are easy to use
Further, our dryers can be exported to varied markets of the world such as USA, Australia and UK
As a quality oriented company, we deliver these dryers in certified quality materials to ensure secured delivery
Furthermore, these dryers are appreciated for their user-friendly design and are preferred for their less power consumption
Moreover, our esteemed clients can get these dryers at very nominal prices
Paddle Dryer Working Principle:
Paddle dryers are extremely useful in drying & cooling of slurry materials, various particles, paste and powder. These dryers perform warming, drying, disinfecting, burning at low temperature. Some of the functions of dryers are high efficiency and better cleaning. Blades are chock shaped and are fitted on the hollow shaft. Heat is released by the blade throughout the process. The area from where the heat is circulated has high volume. The temperature of the heating media ranges between -40 °C to 320 °C. As it is an indirect heating, hence no heat is released. Further, heat helps in drying all type of materials except insulation layers. The movement of the particles and chocked shaped surface, ensure proper heat transfer during the process. Furthermore, hollow blade of the dryer has Ω shape. Moreover, hollow stirring shaft is equipped in the shell having 3 or 4 pieces. The entire dryer is sealed to avoid any leakage. Heat flows between the jacket's shell, stirring shaft and rotation connector.
Product Dryer Features :
Blade is known for low heat consumption

Blade dryer can be obtained at industry leading prices

Superior quality materials are used


These are environment friendly and little powder is released

Known for less power consumption

Stable operation, owing to its perfect finish
Paddle Dryer Application:

These dryers are used in the processing of chemicals, industrial mud and petrochemicals. Owing to their heat transferring mechanism, proper stirring and cooling, the following operations such as heating, melting, combustion at low temperature, drying of solvent & sterilization are performed in a hassle free manner. The stirring blade is fitted along the heat transferring materials, so that volume and heat transferring area is increased and decreased during the processing. Heat transferring surface has a chock shape and performs a self cleaning function. The materials are mixed in same ratio with help of compressing and swell stirring functions. Further, materials move along the shaft as the piston moves. Moreover, if thermal oil is used as a heating media the blade dryer can execute combustion at less temperature also.