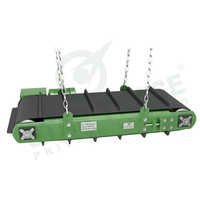 Overband Magnet
Product Description
We began to operate in the year 1991 as a leading manufacturer and supplier of Overband Magnet. These magnets are used for the removal of ferrous metals that are conveyed over horizontal & incline conveyors and over head pulley. Our Overband Magnet is extensively used in coal, food, sponge iron, rubber, cement, glass and chemical industries where high level of contamination and nonstop conveyor processing is required. We can also customize these magnets as per the needs of the clients.
Features:
Powerful magnet that requires no power and maintenance
Our magnet is compact in design and easy to install
Well known for reliable operation, optimum performance and sturdy construction


Made with powerful strontium ferrite magnets

Further Details:
Overband Magnet has been developed to handle high volume product stream flows that exceed the limitations of standard permanent suspended magnets. These models are available in both, manual on/off or automatic, self cleaning system designs. Electrical Power Supplies to operate the magnets are also available and recommended to ensure proper electrical power is supplied to the magnet.
Overband Magnet Construction :
Two U-section pieces are fixed on the Magnet by fastening ears and are supporting bearings of Drums. Drums are equipped with shafts mounted on removable hubs. All bearings equipped with stakes for tightening the belt. The belt is driven by a Reduction Gear Coupled to Electric Motor or Geared Motor by Vee- belts.

Overband Magnet ( Magnet Unit ) :
The Magnet is made of High Intensity Strontium Ferrite Magnets and is guaranteed for the Magnetic Power throughout the life of installation. A Non - Magnetic Stainless steel Plate is provided to cover the poles of Magnet. There is no need for any electrical supply or maintenance.

Overband Magnet Applications :

Coal Industries
Abrasive Industries
Chemical Industries
Paper and Pulp Industries
Ceramic Industries
Rubber Industries
Petroleum Industries
Animal Feed Industries
Recycling Industries
Mineral Processing

Overband Magnet Features :

Permanent magnetic suspension separators are made with powerful Strontium Ferrite magnets.
Special magnet features and options:
2-Pulley construction
Totally-enclosed, removable dust-proof housings for self-cleaning magnets
Heavy, wear-resistant manganese steel bottom plate
Permanent magnet - no power required
Most effective for removal of tramp iron from materials carried over conveyors/ vibratory feeders or inclined planes.
Can be suspended for Longitudinal or Transversal cleaning over the conveyor belt.
Available in widths from 16" to 90"
Easy to install, without modifying existing lines
In-line and cross-belt separators allow automatic discharge of collected tramp iron into suitable receptacles
Rugged, 100% duty cycle design and construction
Low maintenance, easy installation and operation
Operates in hazardous environments
High efficiency means energy cost savings
Maintenance free
Guaranteed performance
Four point suspension
Dust and rain protection
Robust industrial Design
Manufactured to customer specification