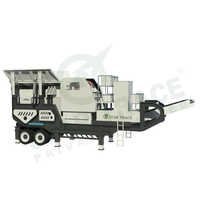 Mobile Jaw Crushing Plant
Product Description
Reckoned in the industry as a manufacturer, supplier and exporter, we are engrossed in offering Mobile Jaw Crushing Plant. Widely used in recycling and mining applications, our offered plants are designed and developed using superior-grade raw materials like aluminum, metals and iron, which are obtained from reliable vendors of the industry. In addition, flexible configuration and easy maintenance of this Mobile Jaw Crushing Plant makes it widely demanded across the globe.

Features:

High performance with minimal maintenance

Longer working life with easy operation

High tensile strength
Other details:

Mobile Crusher Plant is a kind of stone crusher series and also the most common crusher in the stone crusher series. Mobile crusher plant is adaptable to all mobile crushing needs, mobile crusher plant sets up a new range of business opportunities for contractors, quarry operators, recycling and mining applications. The mobile crusher plant for stone crushing features low transportation cost, flexible configuration, easy maintenance, etc. The mobile crusher plant can not only work independently, but also be combined with other machines in a production line. There are mainly several kinds of mobile crusher plant, that is jaw mobile crusher plant, cone mobile crusher plant and impact mobile crusher plant.

Mobile Jaw Crushing Plant Application :
The mobile crusher plant (mobile crushing and screening plants) is applied to multi stage crush large materials, and then screen the discharges according to their different specifications. The whole set plants is widely used to mine, building material, highway, rail way and hydro power industries, etc., finish crushing and screening operations at one time, produce required size and output for consumers.

Mobile Jaw Crushing Plant Structure :
The mobile crusher(mobile crushing and screening plants) is composed of primary crushing and screening station and secondary one, belt conveyor, etc. every crushing station is an independent working unit, they can respectively assume their different responsibility, and the belt conveyor is responsible for material transmitting and piling up between each crushing station.

Mobile Jaw Crushing Plant Details :
This series of mobile crusher plant incorporates all the equipments together on one truck, which has high chassis, narrower body compared with other trucks, this ensures the crusher plant can be easily transported on highways and moved to crushing sites, so the mobile crusher plant is able to achieve on-site crushing without material transporting from one place to another place. In addition, the lengthened plant is able to transport the final products to the motor-lorry directly. the mobile crusher plant can start to work soon even in the bumpy ground without re installation, so it saves more time and money than fixed crusher plant which needs to install individual equipment one by one.

Mobile Jaw Crushing Plant Capability :
Mobile crusher plant can work independently or together with other devices according to coarse crusher or fine crusher requirements. Side discharging chute supports more screening and transporting ways. diesel generators of the incorporated plant can not only supply power for this plant, but also supply power for other plants of the process flow.

Mobile Jaw Crushing Plant Characteristics :

The integrative feeder and screen.
The integrative truck loading of belt conveyor, vibrating screen and crusher.
Direction-changing axis of traction for the road transportation convenience and job site penetrate deeply.
Truck loading installation supporter for the fast and convenience of equipment residence.
The integration of truck loading motor and control panel.