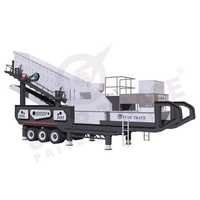 Mobile Impact Crushing Plant
Product Description
Recognized in the industry as a manufacturer, supplier and exporter, we are engrossed in offering Mobile Impact Crushing Plant. High in production capacity, our offered plants are fabricated keeping in mind the requirements of esteemed customers to gain their maximum contentment. Used for various industrial purposes, these plants can be customized on various specifications. The Mobile Impact Crushing Plant offered by us is manufactured using quality-assured raw materials and are applicable for various industrial applications.

Features:

Simple operations and high performance

Low energy consumption with high operational fluency

Low maintenance
Other details:
Mobile Impact Crushing Plant are a new design that produces an excellent cubical product. This impact crusher produces a high ratio of reduction. The impact crusher is built for durability and simplicity of operation. Adjustment is easy from the exterior of the crusher. Maintenance is simple through inspection doors, and electric power unit is standard. Star Trace impact crushers offer greater reliability, high production and are ideal for portable mounting.

Impact Crusher Plants Application :
It is widely used for crushing hard materials in the following industries: mineral, quarry, water conservancy and hydro power, high way,rail way, chemical industry, building materials and so on.

Impact Crusher Plants Operating Principle :
Impact crusher is a kind of crushing machine which is using impact energy to crush materials. When materials get into the area where the board hammer plays a part, under the impact function of board hammer at a high speed, the crushed ones are thrown to the impact device above the rotor continuously. And then they are rebounded from the impact liner to the area where the board hammer plays a part, and are impacted again. The materials from large ones to small ones get into the impact cavity for being crushed repeatedly. The process is going on until the materials are crushed to the required sizes and discharged from down of the machine.

Impact Crusher Plant Products Features :

Reliable structure
high production capacity
low cost
simple operation and maintenance
Easy replacing quick-wear parts and good safety performance.
Impact Crusher Plant Features :
It features of simple structure, zero key connection and special impact liner. When crushing hard rocks, it is of efficiency and energy conservation the products are of cubic shape the sizes of the discharging particles are adjusted the crushing process can be simplified the production cost can be cut down.