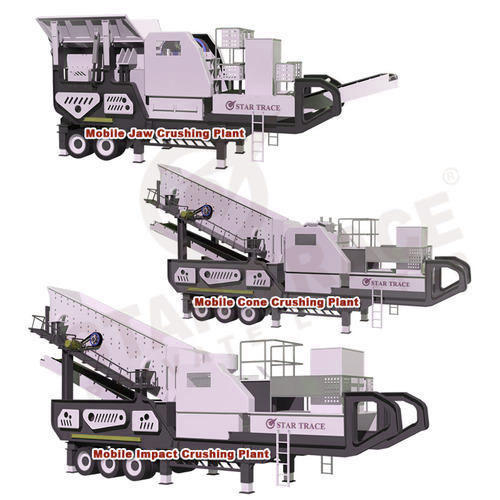 Mobile Crushing Plant
Product Code : STMCP 01
Product Description
Having an experience of more than two decades, we have been able to manufacture, supply and export Mobile Crushing Plant. Used for material processing operations, our offered plants are developed in the supervision of experienced professionals, who are well-versed in this domain. Also, by investing huge amount on our production capacity, we aim to offer best-in-class products to our customers. This Mobile Crushing Plant is dispatched at the clients' premises in committed time-period.

Applications:

Metallurgy industry

Chemical industry

Building materials

Water and electricity
Other details:
Mobile crusher station mainly used in metallurgy, chemical industry, building materials, water and electricity often need to move material processing operations, especially for highways, railways, hydropower projects stone and other liquidity operations, the user can type according to the processing of raw materials, size and material requirements of the different product configurations using a variety of forms.

Mobile Crushing Station Uses and Advantages Roundup :
Integration of the Entire Unit :
Integrated unit equipment installation form, eliminating the sub components of the complex field infrastructure installation and reduce the material consumption hours. Reasonably compact unit space layout, improve the flexibility of field presence.

Flexible Mobility :
Car mobile crusher station sites is high, the body is smaller than the width of trailer operation, small turning radius, easy to ordinary highway driving, easier to break the rugged field area with poor road environments. Entered the site for the shortcut saves time, stationed in the construction area is more conducive to rational, for the whole crushing process provides a more flexible space and reasonable layout configuration.

Reduce Material Transportation Costs :
Mobile crushing station can be the first line of the material on-site crushing, eliminating the material transported from the scene and then broken in the middle part, which greatly reduces the cost of transporting materials. Another more extended set directly to the broken material into the transport wagon bucket, turn away from the scene.

Direct and Effective Job Role :
Integrated series mobile crusher station, can be used independently, can also target customers process the material type, product requirements, providing a more flexible process configuration to meet user mobile crushing, screening and other mobile requirements, so that the resulting organization, more direct and effective transport stream, to maximize the reduction of costs.

Adaptable and Flexible Configuration :
Mobile crusher for crushing, grinding and sieving system that can stand-alone group of independent operations, but also components of the system can be flexibly configured unit joint operations, side discharge hopper material handling methods for the screening provides a variety of configuration flexibility, integration of diesel generator unit configuration in addition to the power supply unit, you can also configure the workflow system targeted to the power supply unit combined, reliable repair convenient.