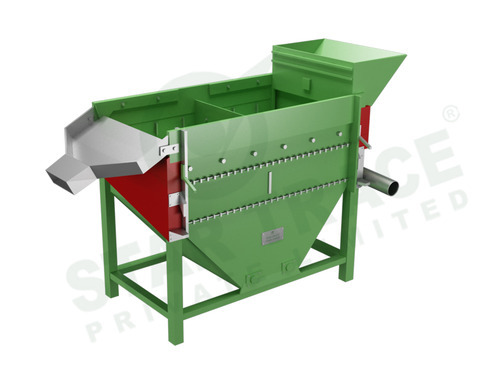 Mineral Jig for Gold
Product Code : STMJG 01
Product Description
Being a highly quality centric firm, we are engaged in manufacturing and supplying a superior quality Mineral Jig For Gold. The jig is manufactured by our highly skilled manpower using high quality materials. Our jig can separate mineral based on differing of specific gravity. In various mining, cement and chemical industries, our Mineral Jig For Gold is highly demanded.
Further Details

Features:
It has high processing capacity, large range of separation size and simplicity of operation

One of the types of modern gravity separation equipment

Good separation effects of medium and fine grains
Mineral Jig for Gold Theory of Operation :
The in-line pressure jig is unique in its design and use of jigging concepts. The unit is fully encapsulated and pressurised and combines a circular bed with a moveable sieve action. The encapsulation allows the stpl to be completely filled with slurry and water.

As a result, slurry velocity is slowed and water surface tension eliminated improving recovery potential. The screen is pulsed vertically by a hydraulically driven shaft. Length of stroke and speed of up and down stroke can be varied to suit the application. Screen aperture and ragging dimension and material can also be altered for the application.

Mineral Jig for Gold Applications :
Mineral Jigs for Gold is a high yield, high recovery gravity separation device. It has been successfully installed in both alluvial and hard rock applications. significant advantages have been achieved in grinding circuits where coarse heavy minerals or waste material have been recovered for preferential treatment prior to over grinding.

The Mineral Jigs for Gold operated to recover free gold, sulphides, native copper, native silver, tin/tantalum, diamonds and garnet. installations are also planned for coal, lead re-mediation, magnetite, mineral sands and iron ore recovery. Typically units are installed in the recirculating load with stpl feed consisting of up to 14mm mill discharge or cyclone underflow.