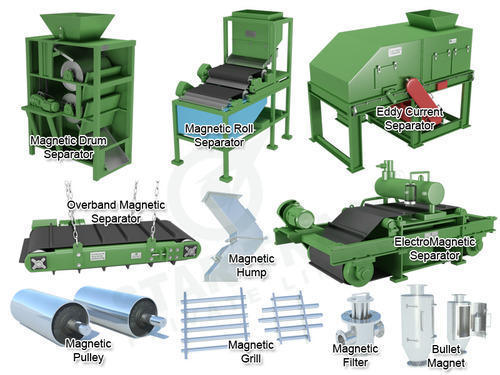 Magnetic Separators
Product Code : STMS 01
Product Description
Being a quality-certified company, we have been engaged in offering a superior range of Magnetic Separators. These separators are used in food processing, chemical, cement, coal, plastic, glass and electrical industries for purifying the material and extract the unwanted ferrous metal. Our Magnetic Separators are made by a team of expert professionals using top quality materials, following the norms and guidelines laid down by the industry. We can also customize these separators as per the clients' needs.
Features:
Well known for low maintenance and strong magnetic force
These require very less power to operate
Prior to dispatch, checked on the parameters of performance and service
Further Details:

We are a leading manufacturer and supplier of Magnetic Separators. Our range includes Magnetic Roll Separators, Magnetic Drum Separators, Over-band Magnetic Separator, Liquid Line Magnets, Magnetic Head Pulley, Eddy Current Separator, Wet High Intensity Magnetic Separator, Low Intensity Magnetic Separator, Electrostatic Drum Separators, Wet Drum Separators, Magnetic Scrap Drum Separators, Magnetic Grill.

Magnetic Roll Separators :
Roll Magnetic Separator is a roll type dry magnetic separator with fixed magnet having high field intense and gradient. The magnets used in the Roll Magnetic Separators and made of alloys of rare earth elements are more powerful as compared to other magnets.

Magnetic Drum Separators :
Drum Separators are primarily designed and manufactured as low field intensity separators. They have an open magnetic system with the magnetic poles located in one plain. Low field intensity separators are employed for separating iron particles from bulk material whenever foreign iron disturbs the subsequent process sequences.

Overband Magnetic Separators :
Over band Magnetic Separator has been developed to handle high volume product stream flows that exceed the limitations of standard permanent suspended magnets. These models are available in both, manual on/off or automatic, self cleaning system designs.

Liquid Line Magnets :
Liquid Line Magnetic Traps are designed to extract the ferrous materials from the slurry or liquid raw materials in order to purify the material in the production process. Strong magnetic tubes filter the flow and extract the unwanted ferrous metal.

Magnetic Head Pulley :
Magnetic Head Pulley provides effective way to remove ferrous contaminant from powdery, schistose and granulate material, like ore, coal, waste, sand and etc. Magnetic head Pulley is composed of 360 degree magnetic core protected by rotatable stainless steel cover and a axis of rotation.

Eddy Current Separator :
Eddy Current Separation devices are an effective way of removing non-ferrous metals from other products. Application such as aluminium cans from municipal waste, aluminium flakes from shredded PET, brass and aluminium from foundry sands, and metals from shredded auto-mobile scrap, other metals such as lead can also be removed.

Electrostatic Drum Separators :
We are established company involved in designing, developing and supplying excellent quality Industrial Electrostatic separator and offer it at market leading prices. Electrostatic drum separators are designed for separating mixtures of bulk materials, which are differing by their electrical properties. These superior quality high tension electrostatic drum separator are manufactured following international norms and standards to satisfy the customers and maintaining products quality.

Wet Drum Magnetic Separator :
Wet Drum Magnetic Separator is one of the leading manufacturers of ore dressing equipment. The present range of Star Trace process equipment enables us to provide complete packages. Magnetic wet separators constitute an important part of the product range and are known for advanced engineering design and excellent performance.

As a result of continuous development in separator technology Star Trace can offer a complete line of magnetic wet separators to the mining and mineral industries.