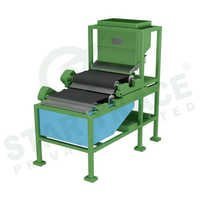 Magnetic Roll Separator
Product Description
Since the inception of our company in the year 1991, we are manufacturing and exporting an innovative range of Magnetic Roll Separator. These separators are installed in food, glass, aggregate, ceramic, chemical, coal and metal processing industries for separating and filtering welding rods, rust, scale, bolts and other contaminants. Our Magnetic Roll Separator is made from top quality materials at our state of the art machining facility. We offer these separators to clients at a nominal price.
Features:
Simple operation, hassle free service life and sturdy design
It consumes less energy
Less level of vibration and noise
Further Details:

Magnetic Roll Separator is a roll type dry magnetic separator with fixed magnet having high field intense and gradient. The magnets used in the Magnetic Roll Separator and made of alloys of rare earth elements are more powerful as compared to other magnets. They generate high attraction forces on the magnetic roll due to their properties and special magnetic series. The obtained high magnetic attraction forces have low magnetic sensitivity and therefore they make it possible to separate very fine low magnetic minerals with a high recovery.
The most distinguishing property of Magnetic Roll Separators is the used magnets that are an alloy of rare earth elements produced domestically and more powerful. Magnetic Systems has a number of standard sizes in which the high gradient separator is produced, and all of these sizes only require a low installation height. It is also possible to make a system in accordance with customer specifications. Depending on the requirements made and the application, a choice can be made for a single stage system or for multiple magnet rolls under one another. This results in an even higher degree of iron separation.
Magnetic Roll Separator Working Principle:
Magnetic Roll Separators consist of two rolls, one of which is magnetics. There is a belt between them to carry the ore into the magnetic field. The movement of the belt is controlled by a motor fixed to one of the rolls. The rotational speed of rolls can be adjusted according to the material properties.
The material to be processed is conveyed to the belt by vibrating feeder at a required rate. Feeding rate can be controlled by adjusting the vibration on feeder. A separator blade has been set in order to be able to collect separated products in different places and to adjust the product properties in a desired manner.
Magnetic Roll Separator Applications:
Quartz
Silica
Carbide
Chromite recovery
Graphite Upgrading
Silica Sand
Alumina
Abrasive and refractory
Raw materials cleaning
Magnesite beneficiation
Copper-nickel ore Pre- Concentration
Manganese and glass send beneficiation
Andalusite and pyrophyllite beneficiation
Diatomaceous earth cleaning and kyanite cleaning
Iron ore beneficiation
Diamond beneficiation
Feldspar
Dolomite
Glass raw materials cleaning
Wollastonite beneficiation
Magnesite
Quartzite etc.
Bauxite cleaning
Feldspar cleaning
Bauxite Upgrading
Recovery of Metals from Slag.
Ceramic raw materials cleaning
Metal value recovery from waste
Ultra High Purity Quartz Cleaning.
Flintclay and Graphite beneficiation
Removal of ferro silicates from limestone Magnesite etc
Selective separation of garnet/ilmenite/rutile/zircon recovery
Magnetic Roll Separator Features:
Compact construction.
Single or multi stage separation.
Fully enclosure with dust extraction port.
Designed for easy maintenance.
Automatic belt tensioning and tracking.
Tool free belt change.