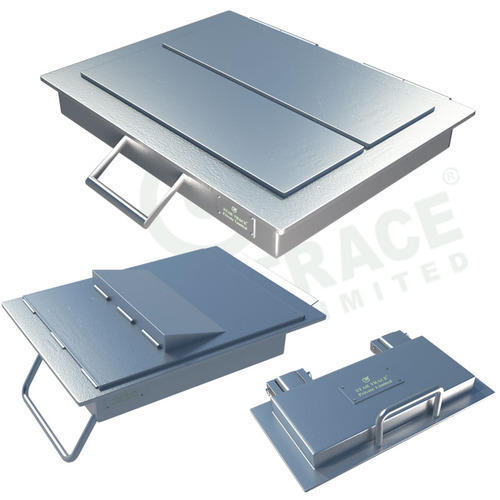 Magnetic Plate
Product Code : STMP 02
Product Description
We are embarking on the latitude of growth and success in the entire market for manufacturing and exporting a wide stock of Magnetic Plate. Widely used in the industries of grain, food, textiles, cosmetics, chemicals, plastics, minerals and pharmaceuticals, these plates are in compliance with the industry standards. This Magnetic Plate is designed specially for sloping chute applications in which damaged metal and ferrous contaminants are removed.
Features
These magnetic plates have high surface strength
Capable of separating ferrous metals from fibrous, viscous or liquids
No energy consumption with non pollution characteristics

Further Details
The high surface strength of magnetic plates makes them ideally suited for sloping chute applications, removing damaged metal and ferrous contaminants. these low-cost, permanent plate magnets are widely used in many industries including food, grain, chemicals, plastics, textiles, cosmetics, minerals and pharmaceuticals. Higher strength models can be used to separate ferrous metals from fibrous, viscous, or liquid material. Although magnetic plates are idea for many applications. they can be installed only in rest angular separators described below have plate magnets mounted in housings. They are used to clean highway shoulders.

Magnetic Plate Application :
Iron remove magnetic board mainly uses in cleaning all kinds of grainy, flaky peaty (like corn, sugar, flour, ore, dregs, plastic, wood flour, chemical source) magnetic matters (like screw bolt, screw nut, iron nail, iron silk, iron dregs etc ) Widely use in ceramics, electricity, mining, plastic, chemical, rubber, pharmacy, food, environmental protection, pigment and metallurgy etc.

Magnetic Plates Operating Principle :

Iron remove magnetic board is made by special production method and superior of materials stainless steel pipes and high class rare earth NdFeB.It can hang up in the conveyor belt, chute, pipe, above or end of the feed belt making as a Magnetic filter. When magnetic matters go through, they will be adsorbed firmly in the magnetic bar body by the magnetic attract so to keep products and equipments in well condition and safe.

Magnetic Plates Characteristic :

Non- energy consumption, non-pollution, it fixes easily above the conveyor belt, pipe or out come mouth to have space saving.Rare earth NdFeB is its magnetic source, powerful, simple and durable.We can also do according to customer's requirement and real production condition to make any change freely.

Technical Specifications for Plate Magnet :

Further Reference to the above, below specification Is for sample only.

Our Product Is Customized One It Will Change as per Customers Requirement

Make: Star Trace
Equipment: Plate Magnet
Type of Magnet: High Intensity, High Gradient,
High Power, Strontium Ferrite
Remanence Br: 3900 – 4200 Gauss
Coercivity Force Bhc: 223-239ka/m/2.8-3.0koe.
Intrinsic Coercivity force Ihc : ≥223-255ka/m/≥2.8-3.2koe
Maximum Energy Product
Bhm. (Bh) Max : 30.25-33.43kj/m3/3.8-4.2mgoe.
Maximum Operating Temperature : 250c.
Magnet Size: 400 (L) X 400 (W) X 100 (T)
Bottom Plate: Ss 304