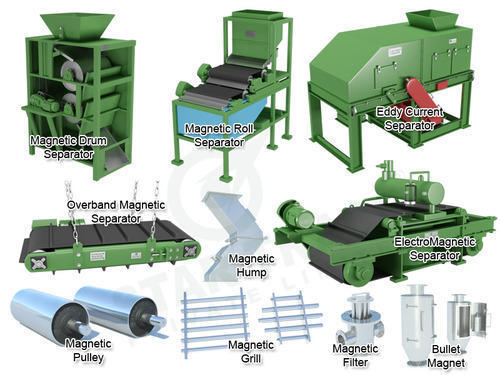 Magnetic Iron Separator
Product Code : STMIS 01
Product Description
Over the years, we have been entertaining our clients with a foremost assortment of Magnetic Iron Separator. These separators are made in compliance with international quality standards using top quality materials. Our Magnetic Iron Separator is used for filtering impurities, iron chips and ferrous particles from water, seed and cement. Our separators are largely demanded in chemical, engineering, food processing, beverage and plastic industries.
Features:
Sturdy design, easy operation and less maintenance
Stringently quality checked on the parameters of durability and performance before the final dispatch
Built in with conveyors for smooth movement of the materials
Further Details:

Magnetic Roll Iron Separator :
Magnetic Roll Iron Separator is a roll type dry magnetic separator with fixed magnet having high field intense and gradient. The magnets used in the roll magnetic separators and made of alloys of rare earth elements are more powerful as compared to other magnets.
Magnetic Drum Iron Separator :
Magnetic Drum Iron Separator are primarily designed and manufactured as low field intensity separators. They have an open magnetic system with the magnetic poles located in one plain. Low field intensity separators are employed for separating iron particles from bulk material whenever foreign iron disturbs the subsequent process sequences.

Overband Magnetic Iron Separator :
Overband Magnetic Iron Separator has been developed to handle high volume product stream flows that exceed the limitations of standard permanent suspended magnets. These models are available in both, manual on/off or automatic, self cleaning system designs.

Wet Drum Magnetic Iron Separator :
Wet Drum Magnetic Iron Separator is one of the leading manufacturers of ore dressing equipment. The present range of star trace process equipment enables us to provide complete packages. Magnetic wet separators constitute an important part of the product range and are known for advanced engineering design and excellent performance. As a result of continuous development in separator technology star trace can offer a complete line of magnetic wet separators to the mining and mineral industries.