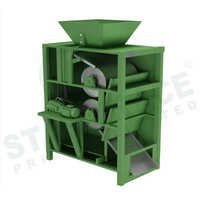 Magnetic Drum Separator
Product Description
Commenced in the year 1991, we are one of the leading manufacturers and suppliers of Magnetic Drum Separator. These separators are used for filtering and removing fine iron particles & oxides and metal objects from mixed materials in pharmaceutical, cement, metal recovery, glass, rubber, electronic and plastic industries. In order to design Magnetic Drum Separator, we use best quality materials and cutting edge technology. Our clients can avail these separators from us at a reasonable price.
Features:
Requires very less energy to operate

Designed under the strict observation of veteran engineers

Optimum performance, less maintenance and noise free operation
Further Details:
Magnetic Drum Separator are primarily designed and manufactured as low field intensity separators. They have an open magnetic system with the magnetic poles located in one plain. Low field intensity separators are employed for separating iron particles from bulk material whenever foreign iron disturbs the subsequent process sequences. It is also used for removing or enriching strongly magnetic content of dry minerals.
Magnet Drum Separator Working :
After the ore slurry tank into the tank after the water pipe water to the mine under the influence of mineral particles into the tank was loose state of a mine. The role of the magnetic field, magnetic mineral particles to the magnetic pole movement magnetic agglomeration occurs, and be attracted to the cylinder. The polarity of the magnetic poles along the alternating direction of cylinder rotation, and at work be fixed, due to alternating magnetic pole magnetic stirring produced the phenomenon of non-magnetic minerals in the turning off, and eventually the suction surface of the cylinder is a concentrate. Concentrate along the edge of magnetic cylinder to the weakest at the magnetic system, mineral water spray in the unloading effect of flushing water was discharged into the concentrate tank, if it is full magnetic roller, brush roll unloading ore is carried out with . Non-magnetic or weakly magnetic minerals are left with the pulp slurry in the discharge groove, that is tailings.

Magnet Drum Separator Applications :

Most economical automatic iron removing equipment for large volume for dry powders, granules & crushed materials.
Suitable for any dry material.
Remove fine iron particles and iron oxides from mixed materials.
Silica, Sand, minerals, etc.
Glass, pharmaceuticals, cement, metal recovery and plastic industries.
Magnet Drum Separator Features :
Powerful magnetic zone approximately of 135 Deg fixed inside rotating SS Drum.
Material is fed from hopper/tray on drum, tramp iron is held on drum and non magnetic material falls, iron is taken away held by magnet and then falls when away from magnet zone.
Magnet Drum is supplied with fixing blocks and Shaft for adjustment.
Complete Drum Separator machine is supplied with hopper, vibrating feeding tray and gear/motor assembly.
Available in Single / double and triple drum complete unit.
Made with Strontium ferrite magnets.
Electro Magnetic drum Separators are made using Aluminum or Copper conductors.
Automatic self cleaning mechanism.
High volume throughputs.
Enhanced separation compared to equipment such as Magnetic Pulleys.
Low maintenance.
Minimal spare parts required.
Robust design.
Different magnet configurations available suited to individual needs.
Drum housing can be designed to suit space limitations.
Wide range of Drum diameters and widths available.