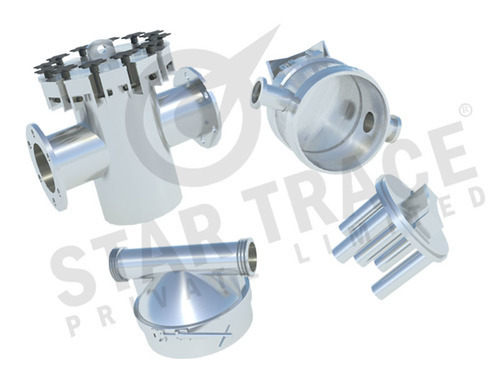 Liquid Line Magnetic Separator
Product Code : STLLMS 01
Product Description
With our 2 decades of rich industrial experiences, we have been engaged in offering an advance range of Liquid Line Magnetic Separator. These separators are installed in water pipelines, chemical plants and beverage industries to extract ferrous materials from the slurries & liquids. Our Liquid Line Magnetic Separator is made from stainless steel at our sophisticated machining facility, in-sync with the globally laid quality standards. Furthermore, to attain maximum satisfaction of the patrons, our range is delivered to their destination in stipulated period of time.
Features:
Easy access for inspection and maintenance
Liquid tight with food grade O-rings
Designed under the strict observation of veteran engineers
Further Details:

Liquid Line Magnetic Separator
Traps are designed to extract the ferrous materials from the slurry or liquid raw materials in order to purify the material in the production process. Strong magnetic tubes filter the flow and extract the unwanted ferrous metal. The unit is simply connected to the existing pipeline via flanged or threaded ends. Simple and easy access is possible using the quick release lid. Cleaning of the magnets is easily accomplished by removing the cover plate of the housing and sliding out each magnet assembly.
Liquid Line Magnetic Separators Application :
Liquid Line Magnetic Separator are engineered to remove ferrous contaminants from liquid and slurry lines
Efficiently remove tramp iron before maintenance and product contamination problems occur
The benefits of this magnetic separator can be experienced in most cases with no appreciable pressure drop or reduction in flow rates
All units incorporate a sump type housing to trap non-ferrous particles. Liquid Traps may be installed horizontally, vertically, or on an angle without affecting their magnetic efficiency

Liquid Line Magnetic Separator Construction :
Tri-clamp, Bevel-seat (Acme thread), or weld end inlet and outlets
It is equipped with high-energy Rare-earth Magnets. Diameter of magnetic bar is 1"
Construction uses Type 304 stainless steel. Type 316 stainless steel available on request
It can be fastened by screw nuts; it also can be fastened by band clamp
Easy-clean type can be provided on request

Cage Style "T" Traps:
T-Trap Liquid Line Magnetic Separator are designed for heavy duty, large volume liquid and semi-liquid line flow systems.
The T-Trap employs a slip-in cage of stainless steel permanent magnetic tubes, which capture ferrous tramp metal particles and improve the purity of the product.
As the particles collect, they migrate to the rear of the tubes where they remain protected from wash-off until the tubes are cleaned.
With its top access bolt-on steel plate and seal, the T-Trap is easy to clean. Simply remove the top.

Plate Style "T" Traps:
When tramp metal protection is required for liquid lines carrying viscous to fibrous products, the plate style T-Trap is ideal. This magnet allows the product to flow through the housing without causing product bridging.
An interior baffle is used to direct the entire product flow towards the powerful plate magnet, ensuring that tramp metal is forced into the magnetic field. Installation of the plate style magnet can be in any position.