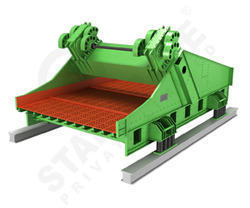 Linear Motion Screen
Product Code : STLMS 01
Product Description
We are a reputed organization that cater to the diversified requirements of clients by manufacturing and supplying an exclusive range of Linear Motion Screen. The screen is used for grading, impurity- removing, testing, washing and dewatering of bulk materials. To manufacture the screen, our diligent workforce uses optimum quality materials. We offer the Linear Motion Screen at most industry leading prices so that every customer can avail its benefits.
Features:
Sturdy construction, low energy consumption and longer service life

Less level of vibration and noise

Easy to assemble and disassemble

Linear Motion Screen

Whilst enjoying immense popularity for many years on small horizontal and inclined screens, This is the first company in the world to perfect this simple drive arrangement on linear motion screens. Linear motion screen offers a highly efficient approach to screening. This single development has resulted in tremendous advantages as far as reduced maintenance, compactness and simplicity are concerned. Besides the simplicity of the drive, many other features have been incorporated to provide a machine which is specifically designed for heavy duty applications, long life, and low operating and maintenance costs, at a competitive price. The standard range of screens is presented later in the brochure, and these are normally available on short delivery.
Linear Motion Screen Drives :
Two Unbalance Motors:
These are arranged as a double drive which produce linear vibrations. They are mainly used for medium-sized vibratory screens. Due to linear vibrations, these screens have much lower downwards inclination than those with shaft drives. In special cases can even run without any inclination or with a slight incline.
Exciters :
Drive units of this type also produce linear vibrations. They are mainly used for vibrating heavy duty large and very large screens. When more than one exciter is being used in very large screens, vibratory force is uniformly and efficiently transferred from the exciter to the screen. The drive motor of the exciter is a standard foot-mounted motor. The motor torque is transmitted to the exciter either directly via a cardan shaft or indirectly by a v-belt drive or a variable speed gear. The indirect drive allows the user to adjust the rotational speed.

Snubbers
- the screen-mounted drive has eliminated the need for snubbers to reduce damage to v-belts and external motors during the large oscillations that normally occur during stopping. Bearing failure is limited to the bearing itself. Particles from a failed bearing cannot circulate in an oil bath and cause possible damage to other bearings and synchronizing gears.
Campactness
- screens can be positioned very closely with a minimum of space wastage. A vibrator motor needing reconditioning can easily be exchanged for a standby unit, with a minimum of downtime. Due to the absence of gears and v-belts, the units use less power than conventional drives.
Linear Motion Screen Benefits :
The advantages of Linear Motion Screens is that use of the following equipment has now been rendered unnecessary :
External drive , with v-belts or cardan shafts.
Oilbath oscillators, with synchronizing gears and oil leaks.
Motor support stand, or overhead structure for motor support.