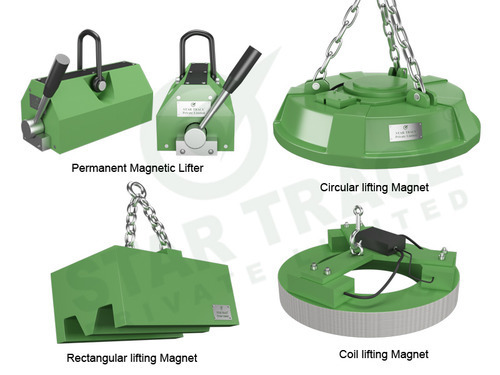 Lifting Magnets
Product Code : STLM 01
Product Description
We aim towards complete client satisfaction, thus, engaged in offering an exclusive range of Lifting Magnets. These magnets offer efficient way of loading & unloading heavy steel plates & pieces and removing steel sections from profile cutting bed. Our Lifting Magnets are commonly used in steel mills, scrap yards, loading docks, warehouses, foundries, shipyards and metal fabrication industries. In addition to this, we offer these stations in qualitative packaging to avoid damage during transportation.
Features:
Made from top quality materials by a team of expert engineers
Less level of vibration and noise during the application
Quick & easy operation with on & off system
Further Details:

Permanent Magnetic Lifter :
The quick, safe and easy way to lift ferrous materials and work pieces. These are two Pole Permanent Magnetic Lifters. The two poles are at the bottom of the lifter. These lifters use high grade Magnets for producing strong magnetic flux path through the two poles. The lifter is placed on the MS flat/block that is to be lifted. The turn of the handle in its ON position with MS flat/block/cylinders (to be lifted) at the bottom ensures completion of magnetic flux path through the MS body. The MS body gets attached to the lifter. The turn of the handle in its OFF position detaches the MS body from the magnetic lifter.

Circular Lifting Magnet :
Load Lifting Magnets are of robust cast and bolted or fabricated construction designed for handling Solid Slabs, Steel Ingots, Bloom Billets, Pig Iron, Light finished parts, Scrap and gives Maximum reliable, efficient and economical performance in the most arduous service condition.

Shells of Lifting Magnets are made from high permeability Steel Casting as per IS:4491(BSS-1617), properly machined, to provide the most efficient magnetic circuit. The periphery of the magnet is heavily ribbed to give added mechanical strength and an increased radiation surface to aid cooling. Centre & Outer Poles are machine from high permeability magnet steel with cored recesses arrangement to protect heads of through tensile bolts. The faces of poles from spigot joints in magnet shell, the outer poles of larger magnets are skirted for added. The pole shoes are easily replaceable.

Rectangular Lifting Magnet :
Rectangular Magnets for handling Steel plates, Bars, Billets, Sections and Tubes can be designed and manufactured to meet customers requirement. The construction of these magnets is similar to above with cast steel shell and poles fabricated from low carbon steel.Very long loads can be handled with two or more magnets spaced on a spreader beam to maintain equilibrium and ensure adequate supply factor.

Coil Lifting Magnet :
Electromagnets On/Off capability and be controlled in automated sheet metal handling system. Through the application of controlled DC electrical Current, electromagnets offer controlled holding power and on- command release of ferrous steel parts. Rectangular & Round Electromagnets Provide concentrated holding power and high responsiveness in manual or automatic applications.
Parallel pole Electromagnets :
Ideal for lifting or pick and place application where parts have uneven surfaces or odd shapes.They can be custom machined to specifically fit the applications.

Multi - pole Electromagnets :
Ideal for the handling of thick ferrous items such as steel plate,forgings,die castings and other non-flexing items.

Str Electromagnet Features :

Optimum temperature rise.
24" standard leads.
Tapped mounting holes.