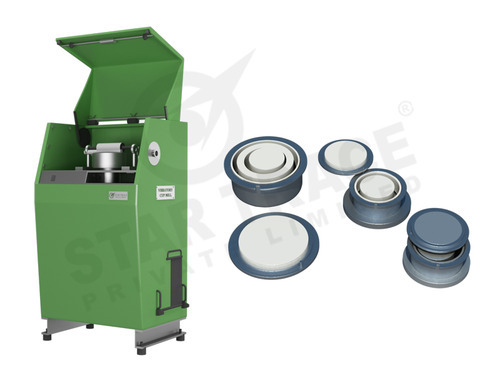 Laboratory Vibratory Cup Mill
Product Code : STLVCM 01
Product Description
Starting with a modest beginning in the year 1991, we are one of the leading manufacturers and suppliers of a qualitative range of Laboratory Vibratory Cup Mill. The mill is used in cement, sugar and mining industries. To comply with the set industrial norms, we use finest quality materials, sourced from the trusted vendors to manufacture the mill. Our Laboratory Vibratory Cup Mill is offered at the market leading prices to the clients.
Features:
Sealed grinding pot, dust proof and no pollution

Simple and reasonable structure, easy to operate and less maintenance

Longer working life and with high safety operation standard

Further Details

Laboratory Vibratory Cup Mills Operates on the principle that the grinding set is fixed on a freely vibrating structure and the grinding media (the disc and the ring(s)) inside the grinding set are accelerated by centrifugal force. The sample material is ground by a combination of impact and friction forces, which depending on the material can reduce the particle size down to 10-20µm.
The materials of construction of grinding media depends up on the type of samples to be grind.
For geological ores & minerals - hardened steel grinding media,(Laboratory Vibratory Cup Mill)
For alloys - tungsten carbide lined grinding media.(Laboratory Vibratory Cup Mills)
For coal & coke - tungsten carbide coated grinding media.(Laboratory Vibratory Cup Mill)