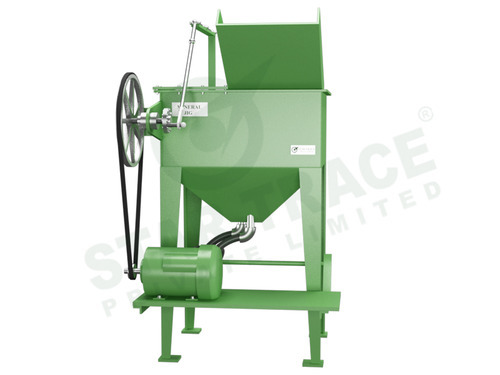 Laboratory Mineral Jig
Product Code : STLMJ 01
Product Description
Our organization is widely acknowledged in this domain as the leading manufacturer and supplier of an extensive range Laboratory Mineral Jig. In mining and cement industries, these jigs are used to separate the particles of different specific gravity, size and shape. To manufacture the jig we use high quality materials at the processing. Our Laboratory Mineral Jig is available at the pocket friendly prices.
Features:
Suitable to used for research in labs of ferrous and non-ferrous metals

The jig is rectangular and bottom of it is pyramid-shaped washing trough

Manufactured in compliance with the latest market demands

Further Details

Laboratory Mineral Jig Principle :Laboratory Mineral Jig
is the process of separating the particles of different specific gravity, size and shape by introducing them on screen though which a fluid is made to pulsate alternately. It is consists of a rectangular open top container. The bottom of the container is either a screen or a perforated surface which supports the bed of the solids. Pulsion and suction strocks of water through the screen are given by means of a reciprocating piston. During the pulsion stroke, solid bed is opened and the particles are lifted. The particles settle into more homogeneous layer during the suction stroke. By repeated pulsoin and suction stroke, a complete stratification is achieved with the heavy particles at the bottom and lighter particles above them.
The following three effects contributes to the stratification in Laboratory Mineral Jig :-
Hindered settling classification. (Laboratory Mineral Jigs)
Differential acceleration at the beginning of fall. (Laboratory Mineral Jigs)
Consolidation trickling at the end of the fall. (Laboratory Mineral Jig)