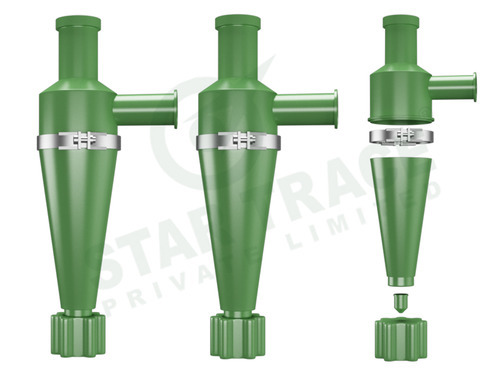 Laboratory Hydrocyclone
Product Code : STLH 01
Product Description
With the combination of our sturdy infrastructure and the skill of our technical personnel, we are engaged in manufacturing and supplying Laboratory Hydrocyclone. It is a conically shaped vessel, for testing and processing slurries and bulk materials. We manufacture the hydrocyclone using optimum grade materials, which we obtain from authentic vendors. The size and capacity of the Laboratory Hydrocyclone can be customized as per the client's requirements.
Features:
Prevents short- circulation of feed directly into the overflow

Rugged design, high storage capacity and rust free structure

Can withstand harsh working condition and high pressure

Further Details
Laboratory Hydrocyclone Brief Description :Laboratory Hydrocyclone
has no moving parts. It consists of a conically shaped vessel, open at the bottom, variously called the underflow, apex or spigot, and connected to a cylindrical section which has a tangential feed inlet. The top of the cylindrical section is closed with a plate through which passes an axially mounted overflow pipe. The pipe is extended on to the body is the cyclone by a short, removable section known as vertex finder, which prevents short- circulation of feed directly into the overflow.