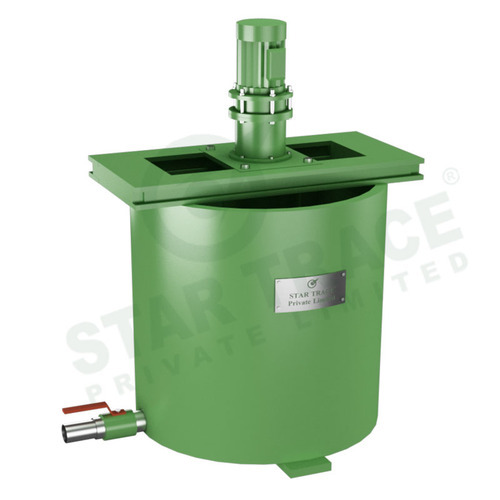 Industrial Agitators
Product Code : STIA 01
Product Description
Our comprehensive expertise in this domain enables us to devise new strategies in manufacturing and exporting the newly launched Industrial Agitators. Regularly used in the pharmaceutical industries, these agitators precisely mix the slurry and drugs suitable for conducting drug reactions. These Industrial Agitators are the tank type equipments that have high capacity of mixing drug compositions in order to increase reaction time.
Features:
Drug is evenly mixed in the whole tank and also discharges easily
Integrated with the watershed hence leave less ash behind
Ensures stable production quality along with quick discharging
Further Details:

Agitation tank is the necessary equipment that regularly mixes the drugs and slurry, increases pharmaceutical drug reactions. Agitation tank uses motor v-belt driving impeller to rotate. regularly mixes the drugs and slurry, increases the role of pharmaceutical drug reactions and enhances the quality reaction time. This machine applies to the mining dressing and also used as a variety of chemical industry trough cake mix. We are specialized in manufacturing, supplying, exporting, and fabrication of agitator.
Application of Agitator :
Mixing bucket, agitation barrels, mixing tanks, mixing barrels, are used for mixing pulp before the floatation process, makes the pulp and medicament mixed intensively, and creates condition for the ore beneficiation working.
Technical Specification for Agitator:
Further reference to the above, below specification is for sample only.
Our product is customized one it will change as per customers requirement:
Industrial Agitator Specifications :
Make: Star trace
Equipment: Agitator tank
Size: 1.2m (dia) x 1.4m (height)
Capacity: 20 mton
Impeller dia.: 350mm
Impeller type: propeller
No. of propeller: 01 no.
Propeller speed: 400 rpm
Shaft dia. at bearing: ø 100mm
Shaft size: ø80x1200 mm long
Shaft moc: en-8
Propeller moc: mild store
Power: 15hp, 3 phase, 415v, 50hz, 1440rpm
Make: cg / kirlosker / marathan
Mounting: foot mounted
Drive: triple groove 'v' belt & 'v' pulley
Vfd drive: optional