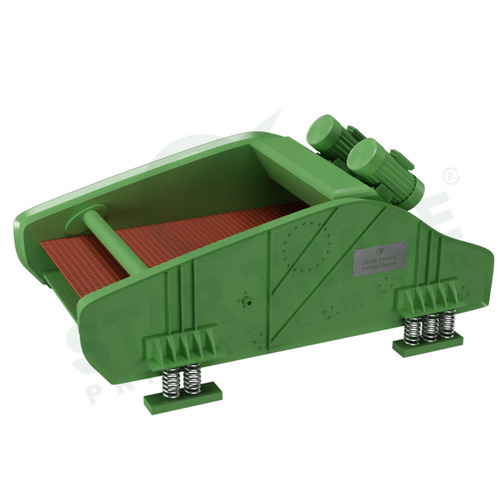 Horizontal Vibratory Screen
Product Code : STHVS 01
Product Description
We run the organization by following all the code of ethics, which make us one of the reputed manufacturers and suppliers of an extensive range of Horizontal Vibratory Screen. The screen is widely used in chemical, metallurgy, ceramics, fertilizers and coal industry to screening and grading bulk materials. To manufacture the screen, we use superior quality materials. Offered at the market leading prices, our Horizontal Vibratory Screen can work in harsh working conditions.
Features:
Easy to install and easy to operate, our screen make less noise

Fully closed structure, no dust scattered

Our screen has large material handling capacity and longer working life
Further Details
Horizontal Vibratory Screen
Whilst enjoying immense popularity for many years on small horizontal and inclined screens, STAR TRACE is the first company in the world to perfect this simple drive arrangement on linear motion screen. Linear motion screener offers a highly efficient approach to screening. This single development has resulted in tremendous advantages as far as reduced maintenance, compactness and simplicity are concerned. Besides the simplicity of the drive, many other features have been incorporated to provide a machine which is specifically designed for heavy duty applications, long life, and low operating and maintenance costs, at a competitive price. The standard range of screens is presented later in the brochure, and these are normally available on short delivery.

Horizontal Vibratory Screen Features :
The following are the features of Linear Motion Screens :

Automatic Alignment of Tensioning Bolts for side Tensioned woven wire Decks : The illustration show clearly the simplicity of this device. The swivel half cups automatically align the tensing bolts to the exact angle to accommodate various wire thicknesses.
Built-in, Lined Feed Boxes and Discharge Lips : The simplicity of the design of these built in items ensures that feed boxes and discharge lips cannot come loose.
Stress Relieving : The entire welded fabrication is stress relieved to ensure that all residual welding stresses are removed.
Screening Surface : The screens can be fitted with a variety of screening surfaces, such as punched plate, tensioned woven wire, polyurethane or rubber mats, plug-in polyurethane panels, or wedge wire panels.

Horizontal Vibratory Screen Applications :

Iron ore jiggling process
Upgrading the Iron ore
Iron ore washing plant
Silica Sand washing plant
Mineral washing plant
Mining washing plant
Trash Screens/Gold Recovery
Iron ore beneficiation plant
Hematite ore beneficiation plant
Hematite jiggling plant
Magnetite beneficiation plant
Magnetite jiggling plant
Garnet sand processing unit
Garnet sand washy unit
Breweries
Carbon Column Safety Screen
Clay (Grit Removal)
Digester Clean-up
Fish and Seafood
Fruit and Vegetable Processors
Hog Waste (B.O.D. Reduction)
Industrial Wastewater
Meat Packaging Plants
Municipal Waste
Paper Fiber Recovery
Petro-Chem Industry
River Dredging
Tanneries
Textiles
Fruit and Vegetable Processors
Hog Waste (B.O.D. Reduction)
Industrial Wastewater
Meat Packaging Plants