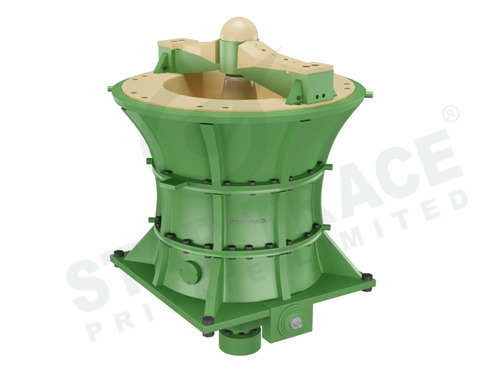 Gyratory Crushers For Gold
Product Code : STGCG 01
Product Description
By utilizing the modern techniques and advanced technologies, we are manufacturing and exporting an array of Gyratory Crushers For Gold. These are provided to offer turnkey solution for the gold processing plants. All these crushers are perfectly integrated with the engine base, transmission, crushing cone and eccentric bushing for smooth gold crushing. We assemble the line of Gyratory Crushers For Gold in different capacities and specifications in order to meet basic application requirements.
Features:
Accept the feeding from top of the crusher
Wide range of models with different specifications is available
Featured with the adjustment provision to discharge the processed gold
Further Details:

Gyratory crusher For Gold is a large crushing machinery, using the gyratory sports in casing cone cavity of crushing cone to produce extrusion, fracturing and bending role to materials for crushing ore or rock of various hardness. Gyratory crushers For Gold is composed of transmission, engine base, eccentric bushing, crushing cone, center frame body, beams, original dynamic part, oil cylinder, pulley , appliances and dry oil, thin oil lubrication system components etc .
Gyratory Crusher For Gold Applications :
Gyratory crushers For Gold is one of the main equipments for primary crushing ores or rocks on metallurgy, building material, chemical industry and hydro power etc. industrial sectors .