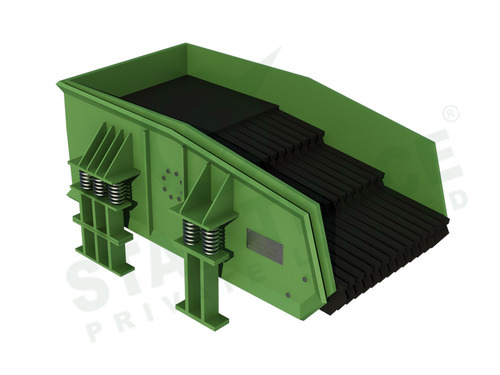 Grizzly Feeders for Gold
Product Code : STGFG 01
Product Description
Grizzly Feeders for Gold
The Grizzly Feeders for Gold is suitable to feed primary jaw crushers, selecting the large sizes which require primary crushing, the smaller sizes, and any fines which must be eventually rejected. The Grizzly Feeders for Gold consists of a very large vibrating body made of thick plate, with inside lining of anti-abrasive plate. The Grizzly Feeder for Gold is driven by two or four vibrating motors. The Grizzly Feeder for Gold which may either be placed on a steel or concrete base rest on springs.
Side Mounted Vibro Motor Type
Boosting Throughout of Primary Crushers :
A robustly constructed range of vibratory machines extending from units 0.5m wide x 2m long up to units 1.5m x 4.5m. The Grizzly Feeders for Gold are intended primarily for use ahead of primary crushers and are designed to handle large run-of-quarry stone, take the impact of dumped loads and smooth out the flow of material to the crusher. All models of Grizzly Feeder for Gold have a flat reinforced impact area followed by a sloping grizzly bar section. The longer Grizzly Feeders for Gold are fitted with two stepped, grizzly bar sets. replaceable wear sections of mild steel, manganese steel or rubber are fitted depending on the duty specified.