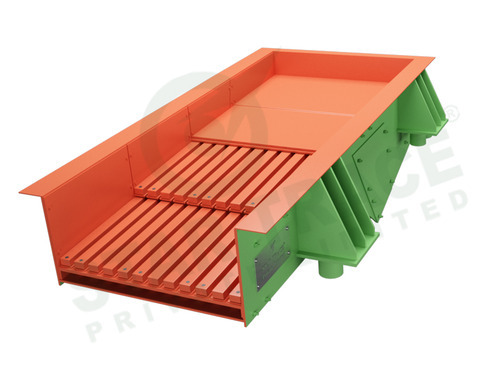 Grizzly Feeders
Product Code : STGF 01
Product Description
By attaining immense industry expertise, we are now presenting in front of our clients a broad stock of Grizzly Feeders. Our feeders are the kind of primary feeders of jaw crushers that are capable of bearing a large amount of materials. These are the best options that are acclaimed for their balanced parameters of impact strength, weight, capacity and installation dimensions. Further, clients can have these Grizzly Feeders from us within stipulated time lines and at discounted prices.
Features:
Can be used across primary or secondary crushing stations
All these feeders are well integrated with the vibrating body manufactured using thick plates
Admired for their impeccable finish, optimum strength and rust resistance features
Further Details:
The Grizzly Feeders is suitable to feed primary jaw crushers, selecting the large sizes which require primary crushing, the smaller sizes, and any fines which must be eventually rejected. The Grizzly Feeder consists of a very large vibrating body made of thick plate, with inside lining of anti-abrasive plate. The Grizzly Feeder is driven by two or four vibrating motors. The vibro feeder which may either be placed on a steel or concrete base rest on springs .
Side Mounted Vibro Motor Type
Boosting Throughout of Primary Crushers :
A robustly constructed range of vibratory machines extending from units 0.5m wide x 2m long up to units 1.5m x 4.5m. The grizzly feeders are intended primarily for use ahead of primary crushers and are designed to handle large run-of-quarry stone, take the impact of dumped loads and smooth out the flow of material to the crusher. All models of Grizzly Feeders have a flat reinforced impact area followed by a sloping grizzly bar section. The longer Grizzly Feeders are fitted with two stepped, grizzly bar sets. replaceable wear sections of mild steel, manganese steel or rubber are fitted depending on the duty specified.