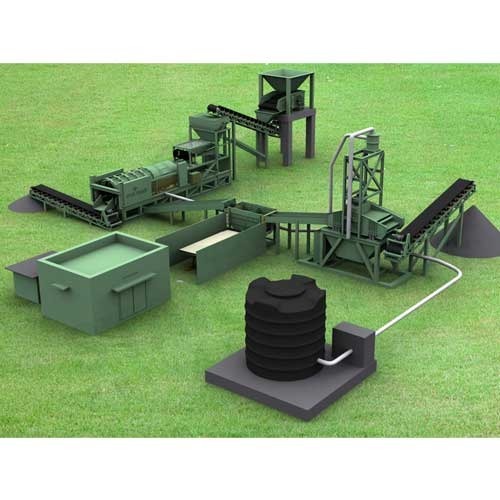 Product Description
We are widely acknowledged in the industry for manufacturing and exporting Gold Processing Plant. Capable of grinding, crushing, smelting and benefaction of gold metal. Widely installed for extracting gold metal from mining tailing, this processing plant ensure complete protection to ecosystem from tailing. In this Gold Processing Plant, a series of procedures is carried out including flotation, electrowinning, gravity separation and leaching.
Features
Turnkey solutions for the plant is provided to clients
Stringently checked for performance and speed
Only certified quality machines and equipments are installed

Further Details

We are leading solution providers for a large gamut of Industrial Plants including
Gold Processing Plant
. These plants are designed to carry out different processes such as crushing, grinding, benefaction, and smelting. These are used for extraction of mineral contents from mining tailings. It is also beneficial to the environment since the tailings are known to harm the ecosystem. We are highly acclaimed for our turnkey services and we work in close association with our esteemed clients for catering to their individual needs.
Gold Processing Plant Features :
Customized services
Precision engineered equipments
Reliable services

List of Gold Processing Equipment :
Gold Concentrator
Slurry Pumps
Shaking Table for Gold
Mineral Jig for Gold
Spiral Separator
Dewatering Screen for Gold
Ball Mill for Gold
Jaw Crusher
Cone Crusher
Belt Conveyors
Vibrating Feeders
Hydroclone
Grizzly Feeder for Gold
Electrowinnings
Gyratory Crusher

God Extraction from Tailings :
Star Trace has been providing a standard technique for extracting the mineral contents from the mining tailings. Star Trace will start the process by sample testing through the mineral content of the tailings.
After the successful result, Star trace will supply the equipment and training process to extracting the mineral concentration. And also we will provide the client for the concentrated extraction.
Tailings is always an unnecessary by product of the mining from an environment.
The damaging materials into surrounding soil have leach environmentally by these tailings are also left in the piles. This process is mostly affects the ater tables and wildlife for years to come.
Star Trace process radically reduces the acid forming in the content of mineral by tailings using the extraction process of mineral. Thus, in the result of the tailings of the cleaner and the process of extraction in the significant amounts of the invaluable minerals.
By using our products it provides the profit to the clients and our technology is use to stop damage to the environment.

Gold Extraction from Tailings Consist of following method :

Gravity Separation
Flotation
Leaching-Cyanidation
Electrowinning