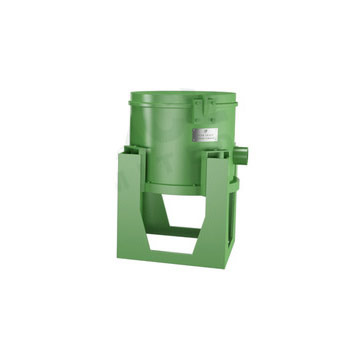 Gold Concentrator
Product Code : STGC 01
Product Description
Our firm is successfully active in manufacturing and supplying a broad spectrum of Gold Concentrator. These advanced concentrators are capable of mining of gold so as to recover natural gold. We design and engineer the series of Gold Concentrator in variegated configurations that can be easily matched with the mining of gold from tailing. All these devices are valued for their high recovery and excellent concentrating ratio.
Features:
Produces low smoke as use no chemical, additives or reagents
Have center discharge structure ensuring safe and fast concentrate removal
Easily installed with the existing mining devices
Further Details:

Gold Concentrator is kind centrifugal concentration equipment. It can be used not only for placer gold mining, but also for hard rock mining to recover the natural gold, replacing amalgamation. It is also used to recover gold from the old tailings. Since 1985, three models have been developed. Application shows that the recovery can be as high as 99%, especially for the case in recovering the natural gold in lode ore with 65% of the ore having milling size of 0.074mm,the recovery for the natural gold is expected up to 98%. For that natural gold of 0.004mm in particle size. The recovery is 97%. The cleaning up cycle is 1~4 hours. And the upgrade ratio is up to 1,000 times.
Gold Concentrators Features :

High concentrating ratio and high recovery.
Total process automation, steady recovery performance.
Centre discharges design for fast, secure concentrate removal.
Environmentally friendly (requires no chemical additives or reagents).
Low water and electricity requirements.
Low production costs, durable wear parts, minimal maintenance requirements.
Compact design requiring less space, easy merged into the existing mining processing.
Quick pay back on investment, typically less than half year.
Gold Concentrators Process Description :
Gold Concentrator is specifically designed for recovery of free, metallic gold, platinum or silver from hard rock circuits and is also an ideal technology for alluvial gold including secondary. Recovery from sand and gravel operations.Gold Concentrators subjects the material Being processed to a centrifugal field of up to 60G 's which allows recovery of finer native metals than with conventional gravity concentration equipment. Periodically, the high grade concentrate is removed from the concentrate cone during the rinse cycle. The rinse cycle time is typically less than 20 minutes per cycle. Optimum operating cycles will range from 1hr to 4hrs.Feed is screened at approximately 2-4mm depending on the application, introduced as slurry through the central vertical feed pipe and accelerated by the rotor. Rapid stratification according to specific gravity occurs as the material is driven up the grid concentrate cone wall under the influence of an immense gravity field. Fluidization water is injected through the rotor wall to create a dilated or fluidized bed. The high specific gravity gold or other target particles become embedded in this zone and are retained here until the machine is stopped and the concentrate is rinsed down through the concentrate discharge ports. A centrally located rinse manifold directs jets of water to thoroughly rinse concentrate from the retention zone after each operating cycle.
How does Gold Concentrator Working :

Fluidization water is introduced into the concentrate cone through a series of fluidization holes.
Feed slurry is then introduced through the stationary feed tube and into the concentrate cone. When the slurry reaches the bottom of the cone it is forced out ward and up the cone wall under the influence of centrifugal force.
The slurry fills searching to capacity to create a concentrating bed. Compaction of the concentrating bed is prevented by fluidization process.
The flow of water that is injected into the rings is controlled to achieve optimum bed fluidization. High specific gravity particles are captured and retained in the concentrating cone.
Upon conclusion of the concentrate cycle, concentrates are flushed from the cone into the concentrate a under through port.