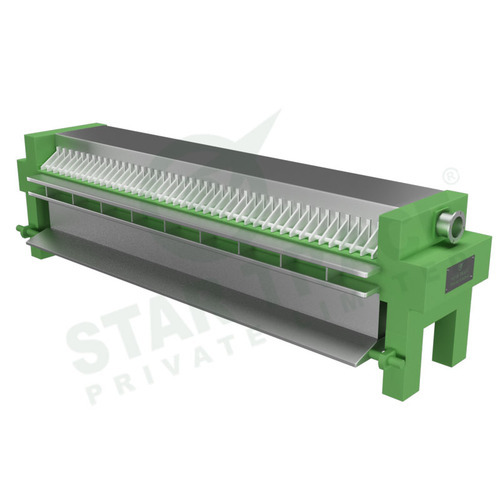 Filter Press
Product Code : STFP 01
Product Description
With the sound support of talented professionals and reliable vendor base, we are capable of manufacturing and supplying a vast array of Filter Press. All these presses are based on the separation process that are especially employed to separate liquid/solid by applying pressure driving approach. The highly advanced series of Filter Press follows the strategy of batch and fixed volume operations that simply stops when material has been discharged.
Features:
Less sand waste and big high efficiency
Ensures multiple material feeding and filtrate collecting
Excellent in temperature and pressure detection
Further Details:

Filter Press
is widely used on various projects which need solid-liquid separation
Filter Press Application :
Municipal waste water treatment
Ore pulp de-watering
Food industry
Pharmaceutical
Pulp and paper mill sludge
Livestock manure
Beverage
Metallurgy
Leather sludge
Aquatic product sludge

Filter Press Classification :
According to cake discharging type: automatic and manual
According to pressing type: automatic and manual
According to material of plate: polypropylene, membrane and stainless steel
Filter Press Components :
Frame filter plate filter cloth control cabinet hydraulic station, etc.