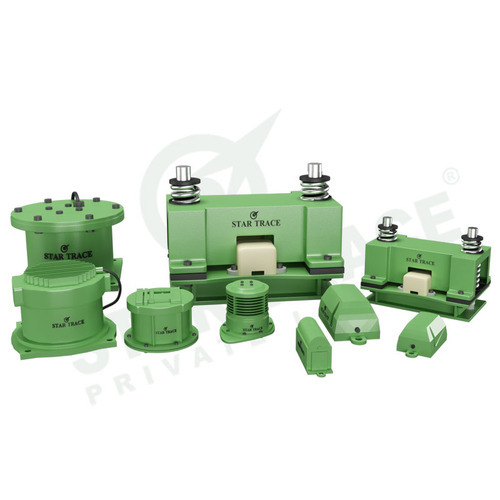 Electromagnetic Vibrators
Product Code : STEV 01
Product Description
Our enterprise is run by a team of highly qualified personnel, who helps us to manufacture and supply an exclusive range of Electromagnetic Vibrators. These vibrators are used in mining, chemical and pharmaceutical industries for handling bulk materials into the bins, hoppers and chutes. We use optimum grade materials, sourced from trusted vendors to manufacture the vibrators. Our Electromagnetic Vibrators are offered at the cost effective prices.
Features:
Totally enclosed, dust-tight and water-proof construction

Easy installation and requires less maintenance

Improved system performance and reliability

Further Details

Electromagnetic Vibrators
offer an economical means of maintaining the flow of bulk materials from bins, hoppers and chutes. they com e with an easily adjustable control which provides flexibility and assures optimum flow for the type of material being handled. furthermore, electromagnetic vibrators can be operated continuously or intermittently depending upon the specific requirements. to assure the highest standard of quality, electromagnetic vibrators are factory tested and adjusted for optimum performance. most models come standard with totally enclosed, dust-tight and water-proof construction. since these vibrators have no rotating or sliding parts, they are virtually maintenance-free. electromagnetic vibrators come with the technical expertise and his application staff, who have been providing productive solutions for a wide variety of material handling problems.
Electromagnetic Vibrators Features and Benefits :
Electromagnetic design no rotating or sliding parts; maintenance-free ideal for continuous or intermittent operation adjustable control varies vibration force with simple turn of control knob urethane encapsulated magnet assemblies provides protection from moisture and other contaminants prevents wire degradation productivity enhancing performance no need for manual labor to unclog bins or to keep material flowing simple design, durable, rugged construction safe, reliable performance for years of service wide range of sizes accommodates your specific application low noise models available quiet, reliable operation