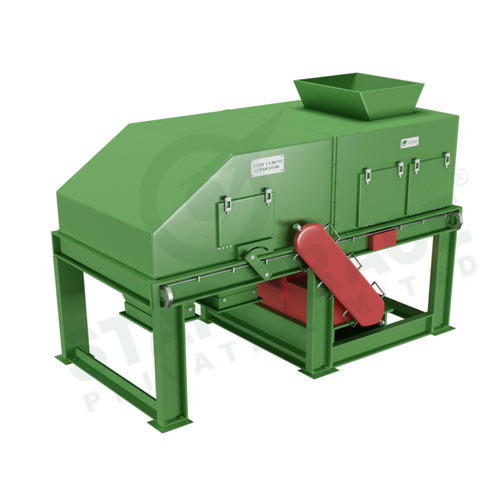 Eddy Current Separator
Product Code : STECS 01
Product Description
Since inception, we have uniquely positioned ourselves as the leading manufacturer of Eddy Current Separator. These separators are used for separating aluminum & other non-ferrous metals from process stream, municipal recycling facility and metal scraps. Built in with heavy-duty motors and controllers, our Eddy Current Separator is made using top quality materials sourced from reliable vendors. We offer these at most industry leading prices so that every customer can avail the benefits.
Features:
Designed for reliability and efficient maintenance
Sturdy construction, low energy consumption and advances service life are some of its attributes
Less level of vibration and noise
Further Details:
Eddy Current Separator devices are an effective way of removing non-ferrous metals from other products. Application such as aluminum cans from municipal waste, aluminum flakes from shredded PET, brass and aluminum from foundry sands, and metals from shredded automobile scrap, other metals such as lead can also be removed. For successful non-ferrous separation, a magnet should be installed prior to an Eddy Current Separator.

Eddy Current Separators Operation Principle:
Eddy Current Separator is ready to be installed for separation. This separator utilizes a powerful Eddy Current Rotor, Conveyor Belt, two variable discharge area and support frame. The optional vibratory feeder provides a consistent flow of material to the Eddy Current Separator. The main principle is that 'an electrical charge is induced into a conductor by changes in magnetic flux cutting through it'. Moving permanent magnets passing a conductor generates the change in magnetic flux.
Eddy current separator is designed according to the principle that conductor can generate induced current in the high-frequency alternating magnetic field. A strong high-frequent magnetic alternating magnetic field generates on the surface of the sorting roller when it works, thus when conductive non-ferrous metals pass through the magnetic field, eddy current will be induced in the body of nonferrous metals. The eddy current itself will generate the opposite direction magnetic field, non-ferrous metals (such as aluminum, copper, etc.) will leap forward along its transport direction by the performance of magnetic field repulsion so as to separate other non-metallic substances and achieve the purpose of sorting. The main distinguishing criterion is material conductivity and density ratio values; a high percentage of the value of the material is more easily to be separated than the lower material.

Eddy Current Separator Working :
Eddy current separation is based on the use of a magnetic rotor with alternating polarity, spinning rapidly inside a non-metallic drum driven by a conveyor belt. As non-ferrous metals pass over the drum, the alternating magnetic field creates eddy currents in the non-ferrous metal particles repelling the material away from the conveyor. While other materials drop off at the end of the conveyor, the non-ferrous metals are propelled forward over a splitter for separation.

Eddy Current Separators Uses :

Foundry Industries.
Glass Industries.
Timber Industries.
Plastic Industries.
Boiler Industries.
E-Waste Industries.
Aluminum Industries

Eddy Current Separator Applications :

Electronic waste disposal (refrigerator dismantling line).
Separation of aluminum cans and ferrous metals.
Separate non-ferrous metals from the bottom ash of boiler.
Separate aluminum or copper block from the sections of abandoned cars.
Separate non-ferrous metals from the glass scrap.
Separate non-ferrous metal impurities in some production lines(such as plastic recycling production line).
Separate non-ferrous metals from recycled plastic doors and windows.
Separate non-ferrous metals from the wood.