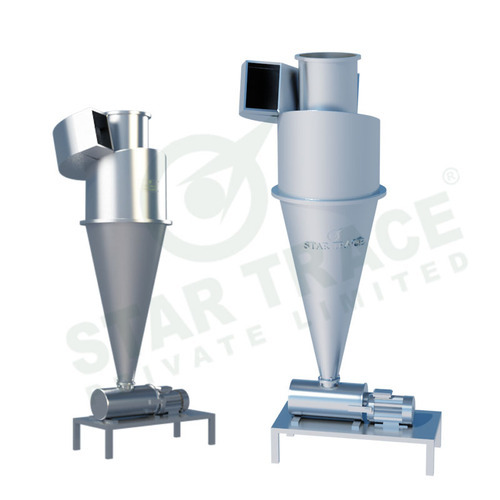 Dust Separators
Product Code : STDS 01
Product Description
Our hard earned expertise in this domain enables us to manufacture and export a huge variety of Dust Separators. These separators are widely used for the applications in industries of chemical, non-metallic mineral, building materials, plastics and abrasives. Clients mostly demand these separators to achieve fine dust removal by protecting the environment. Further, our Dust Separators are acclaimed among the customers for their simple structure, easy installation and long life durability.
Features:
Require low floor space and maintenance
Low energy consumption results in enhanced efficiency
Two stage filtering can also be done with this
Further Details:

Dust air firstly enters into cyclone separator from dust source through suspended hood which is connected with dust remover. High density dust is radically split by cyclone within the tank large grain size dust is separated and falls into storage tank at the lower end fine particle dust enters the hop-pocket dust collector or filter dust remover remaining fine particle dust is blocked on the surface of the hop-pocket and cylinder clean air is discharged out of the dust remover after passing through the filter material. The former part of the cyclone separator has separated most of the dust particles (efficiency>75%), so dust removing burden in the later part is reduced, which enhances filtering efficiency and prolong its service life.
Dust Separators Features :
Process high density dust and dust with randomly distributed particle sizes two-stage filtering, higher efficiency low energy consumption easy installation, less floor space

Dust Separators Application :
Mines metallurgy fireproof materials building materials coal chemical industry power industry