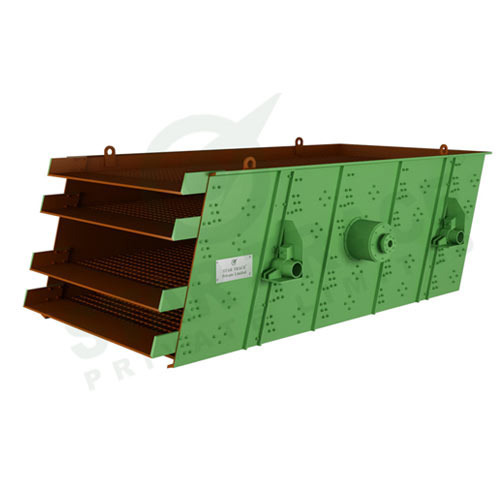 Circular Motion Screen
Product Code : STCMS 01
Product Description
By making optimum utilization of latest technology, we are engaged in manufacturing and supplying a quality range of Circular Motion Screen. In food, chemical, fertilizer and pharmaceutical industries, our screen is used for wet and dry screening purposes. To manufacture the screen, our expert manpower uses best quality materials. We offer the Circular Motion Screen at the reasonable prices.
Features:
Screen uses electric exciter as vibrating source

High vibrating force with unique eccentric structure

High efficiency, easy maintenance and longer operational life

Further Details
Circular Motion Screen is a new generation vibratory screening machine characterized by low profile, efficient protection of support structure from vibrating masses and virtually noiseless operation. The various versions of these Vibro Screens permit its Use for wet and dry screening, coarse and fine Separations and are widely used in steel mills, mineral Beneficiation plants, chemical, mining, food and Fertilizer industries, coal preparation plants and many others.
Circular Motion Screens Working Principle :
The two same vibrating motors which rotate synchronously in different directions, making the screen body do periodical to-and-fro linear moving to achieve screen classification purpose.
The crossbeam and side boards of screen are made of stainless steel plate or heat-resisting plate and connected by the rivets to decrease internal stress and make good fastness.
Circular Motion Screen Features :
The following are the features of Vibratory Motor :
Quick changing of screen mats and of the specially developed removable names, to allow lengthwise tensioning using simple screw connections.
The machine is economically Equipped to customer's requirements with screen decks made of spring steel wire perforated sheet wire Perforated sheet metal, rubber or polyurethane optimum untilization of the screening area by a deck arrangement which is adapted to suit the grain size concerned, namely longitudinal, transverse, inserted and laid linings.
Low noise level with grease lubricated circular drive units which run extremely quiet and are of a stable design with low harmonic oscillation.
High availability and operational reliability is the result of a highly Developed design and quality Standard.
Low maintenance costs resulting from a direct drive using a normal commercial motor and maintenance free card an shaft.
Easy, quick installation and removable of worn and replacement parts by the use of screw connections.

Circular Motion Screens Application :
Our scalping screen can be customized to meet various requirements. High-quality and safe operations. With single or multiple screen decks.
Sand and Gravel
Building materials
Minerals
Ores
Pellets
Sinter coal
Coke
Lignite
Limestone
Dolomite
Chemical products
Fertilizers

Circular Motion Screen Uses :
Chemical industries
Power stations
Steel works
Coal plants
Mine
Building sites