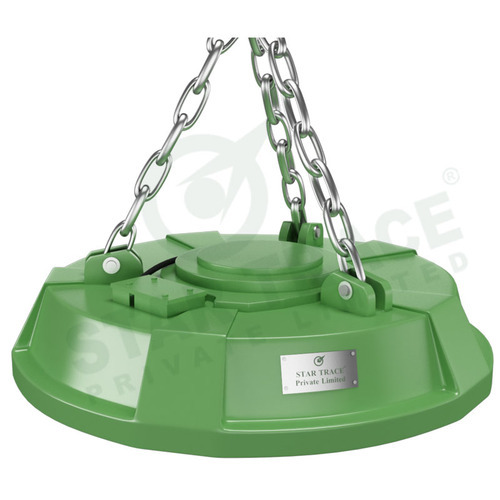 Circular Lifting Magnet
Product Code : STCLM 01
Product Description
Ever since our inception, we are serving the needs of our clients with a foremost array of Circular Lifting Magnet. These magnets are used in metal processing and engineering industries for lifting solid slabs, steel ingots, light finished parts, scrap, bloom billets and pig iron parts. Our Circular Lifting Magnet is designed from the best quality materials under the strict observation of expert professionals. We lay prime emphasis on the packaging of these magnets to ensure safe delivery.
Features:
Excellent mechanical strength and increased radiation surface
Easy to install & maintain, our magnet has longer service life
Reliable, efficient and economical performance in adverse condition
Further Details:
shells of circular lifting magnets are made from high permeability steel casting as per is:4491(bss-1617), properly machined, to provide the most efficient magnetic circuit. the periphery of the magnet is heavily ribbed to give added mechanical strength and an increased radiation surface to aid cooling. center & outer poles are machine from high permeability magnet steel with cored recesses arrangement to protect heads of through tensile bolts. the faces of poles from spigot joints in magnet shell, the outer poles of larger magnets are skirted for added. the pole shoes are easily replaceable.