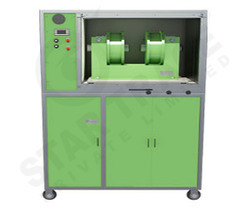 C Frame Electromagnet
Product Code : STCFE 01
Product Description
Understanding the distinctive demands of the customers, we have come up with an excellent range of C Frame Electromagnet. The device is manufactured under the strict guidance of the expert professionals using best quality materials. Used to provide the large magnetic field in a volume, the device is highly demanded in various industrial research laboratories. We offer the C Frame Electromagnet at the cost effective prices to the clients.
Features:
Rugged construction, longer functional life and easy to operate

To provide rust free finishing, the structure is coated with epoxy powder

Fabricated in complete adherence to industry parameters to ensure excellent performance

Further Details

C Frame Electromagnet is used to provide the large magnetic field in a volume. It is suitable for many laboratory applications, research and industrial applications. Star Trace C Frame electromagnet is light weighted it allows an optical tables and the poles enable axial entry and exit holes to be fixed to the optical geometry.
C Frame Electromagnets consists of two cylindrical poles. Each pole has a cylindrical pole face. One end has 40mm pole it produces the most uniform field, other end 20mm pole faces are used when higher gap fields are needed. The poles are clamped in the yoke by bolt. The poles can be adjusted to different gap by slackening the clamping bolts. The following procedure should be used for removing or reversing the poles. The different gap should be adjusted in the range of 0 to 75mm.
Both coils in the C Frame Electromagnets is wounded on spools consists of electrically isolated, overtemperature interlock switches and water cooling tubes. They are two types of cooling air and water cooled. Water cooled will allow maximum of 5A coil current. Air cooled will allows maximum 3.5A coil current. The range of 35 - 75mm should be adjusted coil to coil spacing.

C Frame electromagnet Features :

Pole gap can be adjustable.
Changeable coil spacing.
Portable size.
Two types of operation - Water or Air cooled.
Optional square poles at 50mm.
Reversible Plane or Tapered Poles.
Base Mounted or Rotating base.
C Frame electromagnet Specifications :

Pole Diameter: 45mm. Reversible, with pole face diameters of 20 and 40mm
Pole Gap: 0 to 75mm
Coil Spacing: 35 to 75mm
Dimensions: 600 mm W x 300 mm B x 1200 mm H
Weight: 200kg (Appox.)