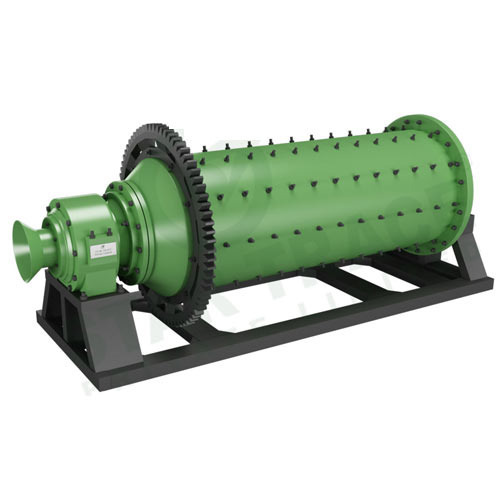 Ball Mills
Product Code : STBM 03
Product Description
Adhering to the industry standards and norms for qualitative production, we have successfully attained the name of reliable manufacturer and supplier of Ball Mills. In cement, food, chemical and fertilizer industries, these mills are used for grinding the crushed materials. Manufactured by using superior quality materials, our mills are coated with anti corrosive materials for protection from rust. We offer the Ball Mills at the market leading prices.
Features:
Composed of feeding part, discharging part, rotary part and driving part

Used for the dry type or wet type grinding of all kinds of ores and other materials

Robust construction, easy to install and requires less maintenance
Further Details

We are engaged in the manufacture and supply of a wide assortment of Ball Mills that are used for grinding the crushed materials. These are commonly used for producing powder from fertilizers, cement, silicates, glass ceramics and many more. These are available as grate type as well as overfall type based on ways of discharge. These are highly efficient grinding equipments that can offer wet or dry grinding of the materials. It is manufactured by using the highest grade of raw materials and offered at leading industry prices.
Ball Mills Details :
Ball mill is an efficient tool for grinding many materials into fine powder
The ball mill is used to grind many kinds of mine and other materials, or to select the mine
Ball mill is widely used in building material, and chemical industry
There are two ways of grinding: the dry way and the wet way
Ball mill can be divided into tabular type and flowing type according to different expelling mine
To use the ball mill, the material to be ground is loaded into the neoprene barrel that contains grinding media
As the barrel rotates, the material is crushed between the individual pieces of grinding media that mix and crush the product into fine powder over a period of several hours.
The longer the ball mill runs, the finer the powder will be Ultimate particle size depends entirely on how hard the material you're grinding is, and the time how long the ball mill runs
Our ball mills have been used to grind glass, powder food products, create custom varnishes, make ceramic glaze, powder various chemicals

Ball Mills Applications :
Ball Mill are generally used to grind material 1/4 inch and finer, down to the particle size of 20 to 75 microns
To achieve a reasonable efficiency with ball mills, they must be operated in a closed system, with oversize material continuously being recirculated back into the mill to be reduced
Various classifiers, such as screens, spiral classifiers, cyclones and air classifiers are used for classifying the discharge from ball mills
Ball mill is an efficient tool for grinding many materials into fine powder
The ball mill is used to grind many kinds of mine and other materials, or to select the mine
It is widely used in building material, chemical industry, etc
There are two ways of grinding: the dry process and the wet process
It can be divided into tabular type and flowing type according to different forms of discharging material